Shazia Chaudhry says the School of Social Work has been a perfect fit for her.
"I love the diverse community of students," says Chaudhry, who is graduating with an master of social work degree with a concentration in administration.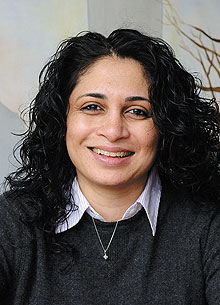 Shazia Chaudhry, Social Work

Photo by Peter Morenus
"The School is small, I've gotten to know people on a very personal level, and I've made lifelong connections. It's been an amazing experience."
She says the faculty has been "phenomenal. There are so many professors who really care and who are passionate about what they teach. They have so much knowledge to share, and give so much of themselves. I have really enjoyed that."
She says her experience at the School of Social work has been far reaching.
"It's not just a degree that you're earning here," says Chaudhry, whose GPA is 4.0. "You're getting information that you really use and need. Some of the courses have been tough, but they're full of practical knowledge.
"An example is the internships," she says. "This year's internship has been incredible. I've been working in the Superintendent's Office of the Cheshire Public Schools and it has been dynamic, building on my administrative skills. I've absorbed so much."
Chaudhry, who has four young children of her own, is also working at a middle school as part of the internship.
She says the international social work courses are "amazing. The courses connect you on a global level. They're not just about our little worlds. There is so much we can do to build bridges across many communities. I like looking at the big picture, taking it out from the community, and looking at how you can effect change on a global level."
Chaudhry says the School has empowered her to do just that.
"The professors, courses, lectures, and other programs show you that what you're doing is meaningful and important."
For her excellent academic performance, service contributions, and future potential, Chaudhry has been awarded the 2009 School of Social Work Alumni Association Student Award. The award will be presented to her during a ceremony on May 9.
Over a period of several weeks, the Advance is publishing short profiles of some of this year's graduating students. Those featured were selected from among those recommended by each school and college.
Article credits to: UCONN ADVANCE, May 04, 2009 by Sherry Fisher
---