On June 14, 2011 four SSW alumni were honored by NASW CT at the Annual Awards Dinner.
For her compassion and dedication to healing children, for her tireless work finding ways to restore childrens' spirits, and for the example she has set for others as a Social Worker with vision, Patricia Wilcox, MSW '78 received the Social Worker of the Year Award.
She is the executive director of the Traumatic Stress Institute and Vice-President of Strategic Development at Klingberg Family Centers. Pat is responsible for designing new programming, maintaining a quality assurance process, consulting clinically, and contributing to sustaining trauma-informed care. It is Pat's work in the area of trauma treatment for youth that particularly distinguishes her. As a national leader in the area of trauma treatment, Pat has forged new paths especially in congregate care treatment settings that work with the most psychiatrically complex children. Additional information on Patricia Wilcox can be found on our Alumni Leaders Making a Difference page.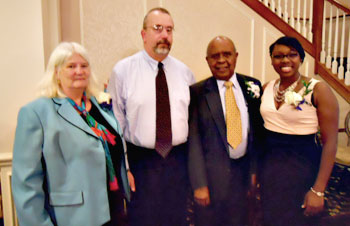 For a lifetime of dedication to the profession of Social Work, for making a difference in his community, and for illuminating that diversity is a source of strength and celebration, Willard McRae, MSW '65 received the Lifetime Achievement Award.
He is known throughout Middlesex County for his lifetime of work in human services and children's mental health, his countless hours of volunteer work on committees, foundations and boards, and his extraordinary commitment to equal access and opportunities for all. Although "retired", Willard currently serves as co-chair of the Middlesex Collaborative for Children with Mental Health Issues and chairman of the Middlesex Coalition for Children.
For outstanding academic achievement, significant contributions to a Social Work practice initiative for military families, and for being an agent of change in our world, Dierdra Oretade, MSW '11 received the MSW Student of the Year Award.
Dierdra is a person who recognizes a need, thinks of solutions, and makes them happen! From the beginning of her study at the SSW, Dierdra had a vision for a school community that was more aware of the challenges, needs, and contributions of the military population and a School that better prepared students for practice with this population. She took a leadership role and developed a 3-credit elective course entitled, "Social Work Practice Within the Military Sector". In addition to this significant undertaking, Dierdra was the 1st vice president of the National Association of Black Social Workers, Office of Student Affairs.
In recognition of distinguished service in the areas of social policy and political leadership in the interests of social justice and the highest ideals of the Social Work profession, Roderick O'Connor, MSW '97 received a special award for his Legislative and Political Advocacy work. Rod is a legislative liaison for the Department of Developmental Services where he assures that legislation and policy changes that could impact residents of Connecticut with intellectual disabilities and their families are fully understood and responded to by the Department.
At NASW CT, Rod has been a long-time trustee of the Political Action Committee both as treasurer of CT PACE and trustee of the National NASW PACE committee. Rod is knowledgeable about new rules around campaign finance reform and helps members understand the complexities of these rules.