Professor Peter Papallo and MSW graduate Brunilda Ferraj will be honored at the NASW/CT Annual Awards Dinner on June 18, 2013.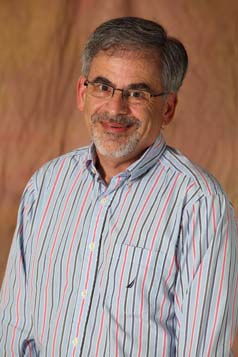 Professor Peter Papallo has been selected as the NASW/CT Educator of the Year. "Peter is a teacher of extraordinary ability and dedication who enriches the UCONN School of Social Work and its graduate students and the profession with his knowledge and commitment to be an outstanding teacher, stated Catherine Havens, Associate Dean and MSW Program Director. "Peter came to the School as an experienced social work practitioner, highly respected within the social work community especially in the clinical practice area. His strongest contribution lies with students, where his clinical background and practice experience enriches and supports their professional learning and development. Peter is an extraordinary model of the teacher practitioner".
Peter was hired as a half-time extension professor but was moved to full-time within a year in recognition of his outstanding teaching and contributions to other areas of the program. Professor Papallo teaches a number of required and elective courses in the MSW program in the areas of group work practice and theory, micro foundation, and casework skills. He also provides academic and field advising to master level students. His areas of specialization include casework, group work, and practice with GLBT clients.
Peter challenges his students to meet the highest academic standards, shows concern for his students and interest in their professional development. He encourages students to think critically, to open their developing professional practice to scrutiny and to build confidence as they risk exposure of their errors in the interest of learning. He has had a remarkable record of success in the classroom receiving excellent student evaluations.
Peter's talents as a stimulating classroom teacher also extend to his work as a faculty field liaison, responsible for overseeing the graduate internships of his advisees, mentoring them and evaluating what they learn through their guided professional practice experiences. In addition to his normal advising load, Professor Papallo provided clinical support, consultation and training to professional social workers and MSW student interns at the Student Family Assistant Centers at two demonstration sites in the Hartford Public School System.
His community engagement has included serving as a member of the Board of Directors of True Colors; a member of a statewide task force exploring domestic violence and sexual assault in the GBLT community sponsored by CWEALF; a member of the State of CT, DMHAS task force on best practice models for LGBT clients; a volunteer at the Hartford Gay and Lesbian Health Collective where he also facilitated a support group for transgendered adults for three years; and a member of the Board of Directors of Project 100, The LBGT Community Center. Peter has supervised 11 social workers in the field for LCSW certifications (all successfully certified). For the past six years, he has had a private practice in Torrington where he provides individuals, couples and family therapy for low fee clients.
Brunilda Ferraj is the 2013 MSW Student of the Year. She graduated from the UCONN SSW in May 2013 with a concentration in Policy Practice with a Focused Area of Study in International Issues in Social Work. In both her classes and field internships, Brunilda emerges as one of the most committed, intellectually curious, and distinguished students. "Brunilda is an exemplar of excellence as a student, leader, advocate, collaborator, and social activist! She is a superb student academically, holding a GPA of 3.9 while maintaining an extraordinarily robust program of political advocacy, organizing, and community engagement to create positive social change at the local, state, national and international platforms," states Associate Professor Rebecca Thomas. Brunilda was chosen as the 2013 graduating class Student Speaker, a prestigious honor bestowed upon a student by vote of their peers.
Brunilda's social activism always focuses on interrelated global issues and the resiliency of women in vulnerable positions. While at the University of Rhode Island, as an undergraduate student, she worked to advocate, support and reach out to victims of domestic violence. Building upon this earlier work, she was involved in a UConn SSW project with the Connecticut Coalition against Domestic Violence. This project was a collaborative effort among community leaders to engage in a strategic planning process, developing a state-wide framework that strengthens the organizational capacity of programs that aim to prevent intimate partner violence. As an MSW student, Brunilda secured funding from the Human Rights Institute to reinstate the Human Rights Reading Group for the UConn West Hartford campus. Once a month, she facilitated the group by engaging members in discussion regarding maternal health, violence against women and gender disparities in education, among other topics. As a member of the UConn Reads Greater Hartford Sub-Committee, she developed programs to foster state wide dialogues about the book, Half the Sky, Turning Oppression into Opportunity for Women Worldwide. These experiences solidified Brunilda's sustained leadership and commitment to advancing human rights of women through innovative approaches.
Brunilda's subtle and dynamic leadership was evident in her work with the Hartford Public Library Immigrant Civic Engagement Project. She was a Research Assistant for the UConn Project Evaluation Team. The goal of the grant included facilitating the transition of newly arrived immigrants into the community and building trusting relationships between new and longtime residents. Her understanding and knowledge of immigration issues has crystalized and she has blossomed as a community researcher. She knows the immigrant experience firsthand having come to this country as a refugee from Albania. Given her background, Brunilda understands the challenges of acculturation, language barriers, economic hardship and trying to find a path to productive citizenship. In a quiet way, not sharing her families' struggles, she contributed to a team of key stakeholders to develop and implement Hartford community dialogues as a mechanism for immigrant civic engagement. As a member of the project evaluation team, Brunilda advanced scholarship by presenting at state and national conferences. In her role as Research Assistant, she worked on a pilot study entitled Remittances: The untold stories of immigrants who send money home, which explored the potential challenges and needs of newly arrived immigrants who remit. She was involved in researching and summarizing the literature on immigration trends and remittance and will co-author a grant proposal to seek research funding from the University of Connecticut.
As a Policy Practice student, Brunilda recognized the need to develop programs, disseminate knowledge, and advocate for promoting healthy equity for all Connecticut residents. As a Legislative Aide for the Office of Representative Toni Walker, she puts her political advocacy skills to work for constituencies by lobbying state legislators, testifying at public hearings and tracking legislation; she researches policies, analyzes implications to constituents and synthesizes information for Representative Walker. Brunilda's goal is to continue to participate in the legislative process by advocating, lobbying, or holding public office.
"I have no doubt that Ms. Ferraj will excel in her career beyond MSW studies and that she will continue to work tirelessly for social and economic justice and human rights," states Professor Thomas.
The awards will be presented at the NASW/CT annual awards dinner, June 18, 2013 at 5:30 PM at Anthony's Ocean View, 450 Lighthouse Road, New Haven, CT. To register, visit www.naswct.org.