When it was time to find a job, Elizabeth (Lu) Pinner, PhD, looked all over the country. She chose UConn's School of Social Work and never looked back. Pinner's friends and colleagues fondly called her Lu.
"Universities were expanding and there were plenty of jobs," says Lu, who joined the School of Social Work in 1967. "I chose UConn because it seemed to offer many opportunities." She stayed until her retirement 30 years later.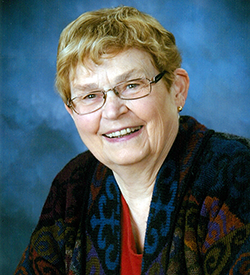 With a planned gift of $100,000, Lu will continue her support for the School where she spent her professional career. She also established a non-endowed fund.
"I would like my gifts to be used to support and promote research that expands the knowledge base for the profession," says Lu. "Our understanding of health and human behavior is expanding rapidly and social workers need to be aware of the new research and use it in their work," says Lu, who helped develop the School's curricula in community organization and policy and planning.
In addition to teaching in the areas of community organization, policy and planning, and social work in the workplace, Lu also engaged in research activities focused on program evaluation and management information systems. In addition to her teaching responsibilities at the West Hartford campus, Lu also commuted weekly to the Northern New England Branch of the UConn School of Social Work to teach in Concord, New Hampshire and Bangor, Maine.
"I loved teaching and I loved curriculum development," says Lu. "I'm very grateful that I was able to do work that I loved." "Lu's generosity is an inspiration to faculty, students and alumni, says Salome Raheim, PhD, dean of the School of Social Work.
In 1988, Lu was appointed to the newly created position of Associate Dean for Academic Affairs. She was immediately tasked with the major responsibility of developing the School's reaccreditation self-study document for the Council on Social Work Education.
With her planned gift, Pinner joins a tradition of faculty support for the school.
Rollin Williams, professor emeritus at the time of his death last fall, bequeathed a significant portion of his estate, $230,000, to UConn as a sign of his appreciation for the many happy years he spent at the University, first as an assistant professor in the School of Social Work, later running admissions for a while and as an interim dean.
Yuen-Chi Wu, who passed away in 2011, made a planned gift of $80,000. Wu worked for the School for more than 25 years, focusing on the area of social work research and evaluation until his retirement in 1986.
"We are so grateful for the support of our emeritus faculty," says Raheim. "They are devoted to helping build the next generation of social workers."
-Kristina Goodnough
The UConn Foundation
Reesa F. Olins, MSW '86
UConn School of Social Work
---