As part of their initiative to build a Knowledge Community on Children in India (KCCI), UNICEF sponsors an annual fellowship program that seeks to expand the knowledge base on issues and interventions aimed at women and children in India. UNICEF accepts applications from graduate and post graduate students from India and around the globe. This year, 32 fellows from 7 different countries were chosen to take part in the program. After applying, I was chosen as one of two students to represent the U.S. for this fellowship.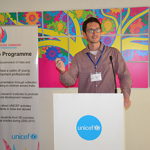 As part of the fellowship program, UNICEF created teams of students based on areas of academic and professional experience and sent us to various project sites throughout India. The team I was placed with was tasked with evaluating UNICEF's Community Based Disaster Risk Reduction (CBDRR) program being implementing in the northern state of Bihar.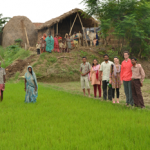 As part of our evaluation we carried out field research in 12 different villages and 12 different schools throughout the state. We carried out interviews and focused group discussions with NGO workers, community members and stakeholders to assess the program's progress and how the program could be scaled up. The final outcome of the fellowship was a 30 page report on the CBDRR program that included an in-depth program assessment, suggestions for scaling up the program and policy implications.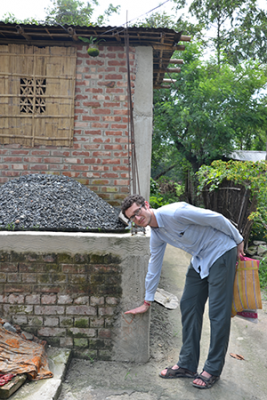 Sadly, as we were carrying out our fieldwork, a state in North India, Uttarakhand, experienced one of the most devastating landslides to hit the country in the past 200 years. In light of this natural disaster, the program we were evaluating was placed in the national spotlight as a proposed model to reduce the effects of similar disasters in the future and is currently poised to be implemented throughout the country. Because of this disaster event, our supervisor was forced to leave in the middle of our field work to carry out a needs assessment for survivors and we were asked to present our findings to the state team that had been assembled to direct reconstruction. This was an immense honor and led me to realize the importance of the work that my team was doing.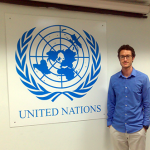 After returning from fieldwork and finalizing our report, UNICEF administrators were impressed with our analysis of the program and selected our report for publication. The report will be used for internal and external advocacy, and to help bring the CBDRR program to other parts of India where UNICEF operates. UNICEF officials also requested that we give a presentation of our findings to the India country office, the Director of UNICEF in India, and to the National Disaster Management Authority (NDMA) of India. This was a great honor and it was a hopeful to see that our policy recommendations were given recognition by members of the national government. Members of our evaluation team recently received work that the NDMA has chosen to pilot the CBDRR program in partnership with UNICEF in three new states in India and has implemented two of our policy recommendations for the program.
As the fellowship came to a close, all fellows were asked to prepare a story of our most significant experience of change. I had come to realize many things about myself throughout the summer and this story offered me a great opportunity to process and document much of the change I had experienced. As a westerner working in India, the weight of my privilege often caused me to speculate on the role I could play in working towards positive change in India. However, throughout my experience I continued to build close relationships with those I lived with and the families I met during our visits to disaster effected villages. This experience illustrated the strength of human connection in overcoming barriers and obstacles and revealed appropriate ways in which I could work towards positive change in a country that was not my own.
These stories of change were compiled and reviewed by the UNICEF country office to better understand our experience. Of great personal honor, my story was selected by UNICEF officers for publication on their website and I was asked to give a reading of the story to UNCEF officials at the closing workshop for the fellowship program.
As I return to the United States and settle back into life in my home country, I continue to realize the totality of this experience and I know it is one I will carry with me for the rest of my life. This experience has helped me to realize what I am capable of, both as an individual and as a social worker. This experience has caused me to expand my conceptualization of the social work profession and has allowed me to see the important role that social workers can play in international development efforts. As I move forward from this experience I plan to advocate for further integration of social workers within international development efforts and for the expansion of international content in social work curriculum.