Getting a job after passing the bar can be tough. But 10 third-year law students in nine states are one step closer to winning a new position – the top prize in a unique contest – and fulfilling their dreams of becoming attorneys who advocate for children. One of the ten semifinalists is UConn School of Social Work alumna, Shaundricka Ranel MSW '11.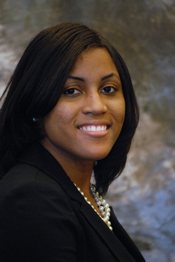 BARBRI, a company that helps law school graduates prepare to take the bar exam has selected ten semi-finalists in its first-ever Public Interest Fellow competition. The winner will work at the global nonprofit Save the Children as a fellow in a year-long position created and funded by BARBRI.
"The job market for new lawyers is challenging," said Mike Sims, an attorney and president of BARBRI. "We wanted to do something no one else has ever done to both encourage public service and benefit a nonprofit like Save the Children that does such important work at home and abroad."
BARBRI designed the Public Interest Fellow program to promote social responsibility and increase awareness of alternative legal career paths. Contestants submitted short videos expressing why they want to work for the nonprofit dedicated to affecting immediate and lasting change for children in need across the country and around the world.
Most of the videos depict personal stories and experiences that inspired the students to go to law school and work with kids; the semi-finalists included imaginative elements that make their productions standouts. The common thread among all entrants is their desire to improve the lives of children, one of the society's most vulnerable groups.
View video here: http://barbri.shycast.com/submission/show/4550 and vote for Shaundricka.
---