Social worker, educator and political activist Nancy Humphreys has made a $1 million bequest to support the Institute for Political Social Work at UConn to encourage social workers to take an active role in politics.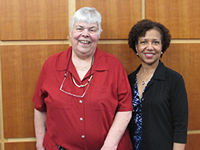 Humphreys' bequest will help ensure the continued success of the Institute, which she founded at the School of Social Work in 1995 to encourage political activism as a legitimate specialization in the social work profession. "Social workers are devoted to helping people change and to changing society," says Humphreys. "By participating in politics, we can help make the system fairer, especially for those most at risk. I am delighted that my gift will support the Institute and help more social workers become politically active by providing them with training that allows them to be successful."
Among the Institute's most important activities is its annual Campaign School, a two-day workshop that teaches social workers about political campaign strategies and how to run successful political campaigns. Held annually for more than 18 years, the school has trained more than 700 individuals from 24 states on all aspects of running a successful campaign for elected office.
The gift was announced this week at an event honoring Humphreys upon her retirement from the School of Social Work, which she joined in 1987 as dean and professor. Since stepping down as dean in 1995, she has served as director of the Institute and professor of policy practice.
"We are so grateful for Nancy's generous gift, which will continue her legacy at the School of Social Work and the University," says Salome Raheim, dean of the School of Social Work. "Nancy pioneered a new way of strengthening social workers' understanding of policy and its impact; and she recognized and supported their tremendous potential as elected leaders and political activists. With this gift, the Institute that bears her name will continue to attract high quality candidates from across the state of Connecticut and the nation."
Kristina Goodnough
UConn Foundation