The June Archer 100 Men of Color Gala was held on October 3, 2014 and Winston Johnson MSW '74 was among the group of honorees. The event recognizes men of color in business, education, entrepreneurship, government, and services. It celebrates the progress that these pioneers, have made in their professions, and the invaluable contributions these men have given to their communities.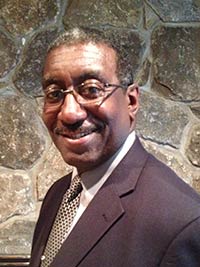 Winston B. Johnson, ACSW, LCSW is the Director of Prevention/Intervention Services for the Hartford Public Schools. He has worked for the Hartford Public Schools for 34 years in a variety of positions, as a school social worker, Assistant Coordinator of Social Work Services, Vice Principal, Coordinator of Social Work Services, Acting Principal, Acting Coordinator of Alternative Education Program, Acting Director of Adult Education, Special Education Director, Director of Psychology and Social Work Services, and Director of Prevention Intervention providing supervision and oversight for all of the school social workers in the Hartford Public Schools.
He has been on a number of community boards and community teams responsible for providing services and support for children and families in the Greater Hartford community. In addition, Winston is a member of the UConn School of Social Work Dean's Advisory Board and an adjunct faculty member teaching a course on School Social Work.
In addition to recognizing the 100 Men of Color, June Archer's goal is to provide financial support through scholarships and mentorship programs that promote the advancement of young men of color.
Upon receiving the award, Winston commented "I am truly honored to have been nominated to receive this most distinguished recognition as one of the 2014 June Archer's 100 Men of Color Awardees. Special thanks for all the well wishes and congratulatory messages sent from my Hartford Public Schools, community and family. Your kindness will never be forgotten!"
---