Last month, fifteen students from the UConn School of Social Work marched among 311,000 people in New York City in what became the most historical march for climate change to date – The People's Climate March.
AASO co-chairs Vicki Armstrong (1st year Admin) and Renee Hamel (2nd year CO) present a cantastoria, a theatrical form of storytelling through a series of images. The cantastoria was performed in some classes as an interactive teaching tool about climate change and global warming. The cantastoria was designed by local artists supporting the People's Climate March.
The Asian and Asian American Student Organization (AASO) with support from Social Workers for Global Justice organized the event for students in collaboration with the Connecticut Coalition for Environmental Justice. The People's Climate March occurred just days before world leaders convened at the United Nations for a summit to discuss solutions in preparation for next year's Climate Change Conference in Paris. Marchers in New York City and across the world in companion demonstrations emphasized solidarity in support for a world with an economy that works for the people and the planet; a world safe from the ravages of climate change.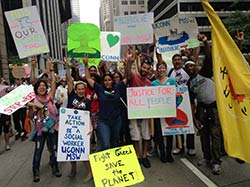 "Climate change is not something we think about every day," says Renee Hamel, 2nd year CO student and co-chair of the AASO. "When we do think about it, it's often associated with the distant future, but in reality, action is needed right now. Just recently, we have seen low crop yields for grain production, droughts, increases in natural disasters, and last year was the warmest on record. Climate change affects everyone, but as social workers we have a responsibility to protect the most vulnerable individuals and communities that are disproportionately affected by environmental degradation."
Marching in such a large scale demonstration was a first time experience for many of the UConn social work students. It also represented an opportunity to learn about environmental activism and climate justice.
"This incredible 'call to action' demonstration has shown me that environmental justice is justice for all regardless of gender, class, skin color, or language barrier, says 2nd year casework student Brandon Burke and co-chair of Social Workers for Global Justice. "When the world benefits, we as people benefit too."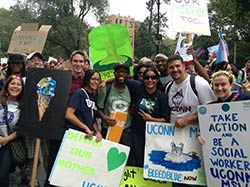 Roxanne Wilson, 2nd year group work student agrees. "To see such collaboration of different individuals from all walks of life coming together, was so liberating that I cannot even begin to explain. As social workers, I feel it is important to acknowledge the bigger picture. I believe that was accomplished the day of the climate march. It was such an unforgettable experience."
---