Growing up during the chaos of post independent Jamaica, Princess Russell-Blidgen knows first-hand how the resolve of a few professionals banding together can help reshape an impoverished child's future and kindle the fire to succeed. She is the first in her family to graduate high school and in May of 2015 will earn her MSW degree with a concentration in Casework.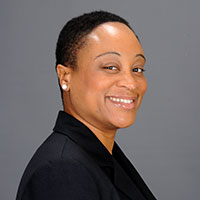 Princess is a recipient of the Council on Social Work Education's (CSWE's) Minority Fellowship Program (MFP) titled Now Is the Time: MFP-Youth Program (NITT MFP-Y), sponsored by the Substance Abuse and Mental Health Services Administration (SAMHSA). The fellowship provides a monetary stipend, specialized training, mentorship, and other supports to advanced year, direct practice racial/ethnic minority MSW students who are committed to providing mental health services to at-risk children and youths and/or transition age youths in underserved minority communities after graduation.
The purpose of this program is to reduce health disparities and improve behavioral health-care outcomes for racially and ethnically diverse children, adolescents, and transition age youths by increasing the number of culturally competent master's level social work professionals serving this population.
Princess's goal over the next ten years is to "become an informed voice in trauma treatment for young children and adolescents in Hartford". She believes that her graduate education at the UConn School of Social Work will prepare her well to reach her future goals of becoming a licensed master of social work (LMSW) and a licensed clinical social worker (LCSW).
---