MSW student Rebecca Lemanski was selected to participate in Leadership Greater Hartford's pilot program, Leading Off Campus. Rebecca is a first year student with a concentration in administration. She works full time at Community Health Center Inc., as a Parent Educator and interns at the United Way of Central and North Eastern Connecticut.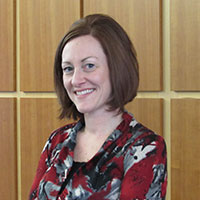 The program began in January and includes seven workshops held biweekly. Students will earn a Certificate in Community Leadership from Leadership Greater Hartford.
The Leading Off Campus program focuses on collaborative community leadership for students nearing degree completion who have demonstrated leadership on their own campuses. This program honors and recognizes students who are ready for the "next step" in their leadership development – making a lasting impact in their community. Leading Off Campus inspires the next generation of community leaders.
"As part of my participation in the program I have had the opportunity to meet with prominent community leaders in Hartford, learn team building skills, project management skills, goal setting strategies and how leadership practices relate to community leadership. Additionally, I am learning effective communication skills to elicit powerful connections, civic engagement strategies, networking tips and strategies for enhancing sustainability of our team projects."
Each student is expected to plan and implement a service learning project. Rebecca's group has chosen parental engagement in the City of Hartford. Planning is still taking place, but the project will culminate with a dance and information table for Hartford parents.