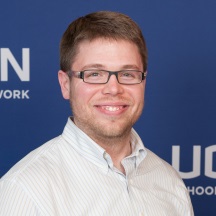 Jason Ostrander is the recipient of the Association for Community Organization and Social Administration (ACOSA) Outstanding Student award. The award recognizes the contributions of a BSW or MSW student who has been involved in community or organizational practice. Dr. Louise Simmons, his dissertation advisor, nominated Jason because of his "amazing career and academic record related to his interest in political participation of social workers."
His dissertation examines political participation of clinical social workers – if, how and why they choose to participate in the political process or not. According to Dr. Simmons, "Jason is very devoted to the notion that in order to advance social work's mission and the well-being of the people it serves, participation in political processes is very important". His work experience as an Economic Development Specialist in the office of U.S. Congressman John W. Olver, in Pittsfield, MA and in various campaigns within Massachusetts demonstrates how he has used his social work education to pursue this important theme.
Associate Dean for Academic Affairs, Scott Harding, stated, "I have worked closely with Jason over the past three years. I am confident that he will make a major contribution to the social work profession. Already a talented, dedicated teacher, he brings a distinguished practice background that informs his commitment to policy practice and community-focused research. In his scholarship, Jason is particularly interested in the role social workers can and should play in promoting greater involvement in 'politics' by both client groups and the social work profession".