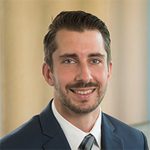 Dr. Nathanael Okpych, who joined the UConn faculty this academic year, has been selected to receive the 2017 Council on Social Work Education (CSWE) Transforming Child Welfare Dissertation Award. As part of the award, Dr. Okpych will present his dissertation at the CSWE Child Welfare Track meeting later this year.  His work will also be publish in a 2018 edition of Families in Society, the longest running journal in family-centered social work.
Dr. Okpych's dissertation, "Make or Break: College‐Going and College‐Leaving among Foster Care Youth", contributes important new knowledge to the child welfare field, and is one of the most extensive studies of college-going among foster youth to date. Drawing on data collected from a 10-year longitudinal study of transition-age foster youth in three Midwestern states, the dissertation examines individual, college, and policy factors that impact college entry, persistence, and completion.
Overcoming methodological limitations of previous analyses, this dissertation finds that lack of academic preparedness for college-level work, as well as financial hardships and other life demands after entering college, compromise the chances that foster youth complete a postsecondary credential. Higher amounts of maltreatment and relational instability earlier in life were also found to subsequently impact youths' attachment orientation in adolescence, which in turn decreased the likelihood of finishing college. Together, the findings point to four key target areas for increasing college entry and completion rates among foster youth: addressing academic underpreparedness, linking youth to high quality college guidance, meeting financial need while in college, and addressing psychosocial consequences of past maltreatment and relational instability.
The findings of this dissertation motivate several recommendations for child welfare professionals, local child welfare departments, and state and federal child welfare policy. Together, the recommendations underscore the important role that child welfare professionals play in formalizing education goals and linking youth to needed resources, prompt local agencies to form partnerships with youth-serving organizations and education institutions, and advise states to use administrative data to inform college guidance and adopt federally-funded policies geared toward college success. Federal child welfare policy recommendations include expanding the education and training voucher program to keep pace with the rising cost of college and extending the age limit from 23 to 26 so that funding is not prematurely cut off before youth have finished college. Importantly, ensuring college success for foster youth will require partnerships with allied professions, and several recommendations are directed at education professionals, institutions, and policies.
Since educational attainment is a powerful determinant of the health and well‐being of children and adults, this dissertation is an important area of focus in child welfare. Most foster youth aspire to go to college but only about half ever see the inside of a college classroom. There is no quick fix or magic bullet to raising the college completion rates for youth people with foster care histories. Rather, continued investment from public and private stakeholders in combination with early, targeted interventions that remain in place as other foster care supports phase out will be needed to support foster youth through college. The child welfare field is a central player in the effort, and this dissertation is a critical step forward in advancing our knowledge and proposing solutions for undertaking this goal.