The University of Connecticut School of Social Work (SSW) is a national leader in graduate social work education. Ranked no. 36 in best graduate schools for social work by U.S. News & World Report, UConn SSW is among the top 12 percent nationwide and no. 1 in Connecticut.
A top public university in the nation, UConn is committed to affordability, access, and minimizing student debt. In our School's 75-year history, we have graduated more than 8,700 alumni. Located in the heart of Connecticut's capital city, we have a rich tradition of educating and serving diverse populations and more than one-third of our 400 students belong to underrepresented groups in higher education.
We are the first public university in Connecticut to offer a bachelor's, master's and Ph.D. degree in social work. The School's research doctorate is the only public social work Ph.D. program in the region. Our areas of distinction include:
Mental health, trauma, and violence prevention and reduction
International social work and human rights
Social and health disparities
Diversity and cultural competence
Political social work
Policy analysis, advocacy, and community organizing.
The School of Social Work is actively involved in a growing number of interdisciplinary collaborations within the University, including with the School of Law, UConn Health, and the Human Rights Institute. We also have extensive collaborations with public and private human service agencies. We recently welcomed to our School the Innovations Institute, an interdisciplinary, translational research center, which greatly expands our national footprint. Our graduates play major roles in planning, administering, and providing social and mental health services in Connecticut, the region, and beyond.
Our Mission
Our mission is rooted in a passion for and commitment to social, racial, and economic justice and the improvement of human well-being, both locally and globally. Through our bachelor's, master's, and doctoral degree programs, we strive to prepare the next generation of micro and macro social work practitioners and scholars through excellence in teaching and learning both in the classroom and through innovative field and research experiences. Our faculty is committed to the generation and wide dissemination of cutting edge and impactful knowledge, informed by social justice and anti-oppressive lenses, through traditional and innovative research methodologies.
Accreditation
The School of Social Work's Master of Social Work (MSW) and Bachelor of Social Work (BSW) programs are both fully accredited by the Council on Social Work Education (CSWE). As part of the accreditation process, the School of Social Work routinely collects and analyzes student learning outcomes at the MSW and BSW levels. CSWE mandates that all programs must report their assessment results on a series of competencies.
MSW Assessment of Student Learning Outcomes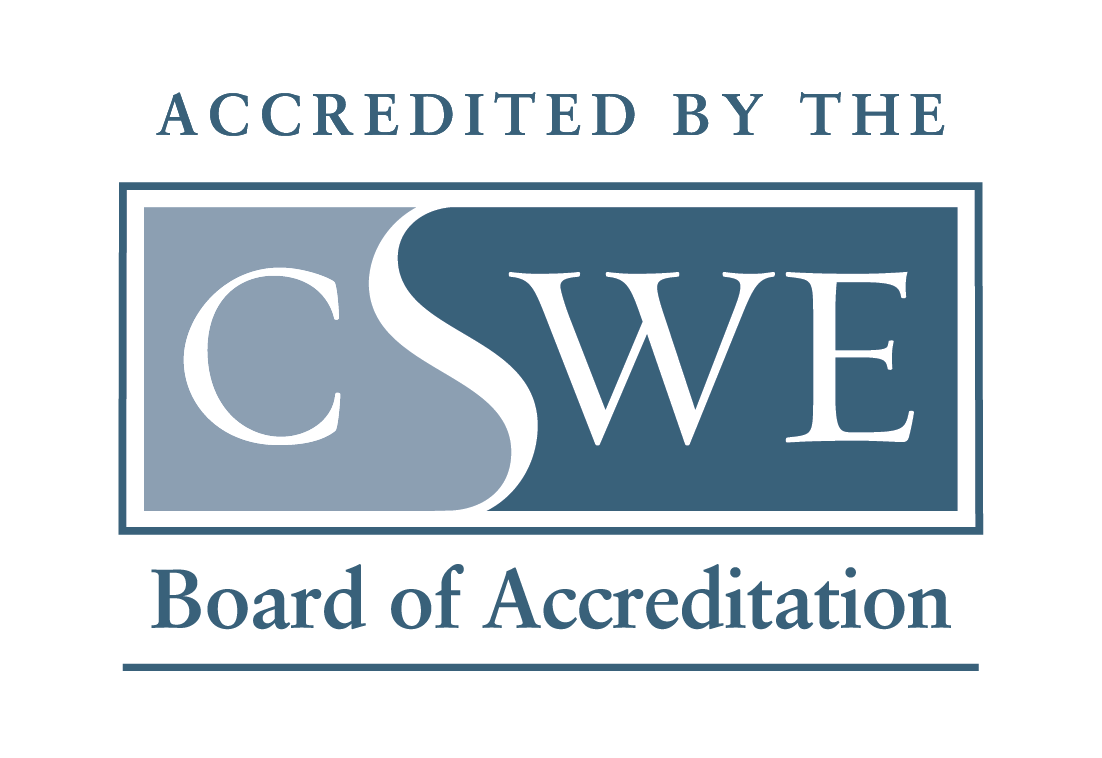 Visit Us
Come to an Open House, Tour or Information Session to learn more about our flexible program options to chart a course of study that works with your schedule.
Building Hours:
The School of Social Work building is open Monday to Thursday, 7:30 a.m. to 9:30 p.m., and Friday, 7:30 to 5:30 p.m.
Faculty and staff maybe reached by email.