Just Community
Just Community is a Major Committee within the School of Social Work comprised of faculty, staff, Graduate Student Organization MSW and PhD student representatives, and a BSW student representative. Its role is to facilitate and support social justice-focused initiatives and to enhance inclusion of more anti-oppressive practices in our classrooms, programming, and daily interactions with one another at the school and our many communities. Through the power of education and advocacy we work for social change within the ideological, intrapersonal, and institutional levels. The ultimate goal is justice and inclusion for all.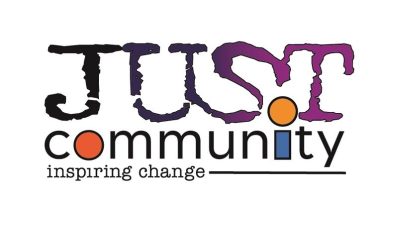 Our Mission
To create a community at SSW that is capable of dialoging with, learning from, and mobilizing social justice efforts challenging the many social injustices and forms of oppression and inequities within our communities as well as at the state and national levels.
Our Purpose
To provide spaces within the School for faculty, staff, and students to come together to educate, discuss, and debrief issues relevant to the social work profession within the context of our socio-cultural/political/historical and economic environments. These opportunities aim to help enhance personal and professional development, mobilize advocacy efforts, and promote an inclusive environment.
Within the Fabric of SSW
School's Dedication to Anti-Oppressive Practice & Social Justice
Our dedication to anti-oppressive practice and social justice is reflected in our ongoing efforts to recruit and retain a diverse staff, faculty, student body, and associated field agencies. We are also committed to working with and within diverse communities. In accordance with the NASW Code of Ethics, we educate the School of Social Work community on anti-oppressive practice and social justice highlighting the importance of understanding intersectionality and the role that power and privilege play on individual, institutional and cultural levels. Particular attention is given to developing critical consciousness, examining the structural forces in our society that shape our socio-political environment,  and promoting advocacy that mobilizes social justice efforts.
Just Community Solidarity Hour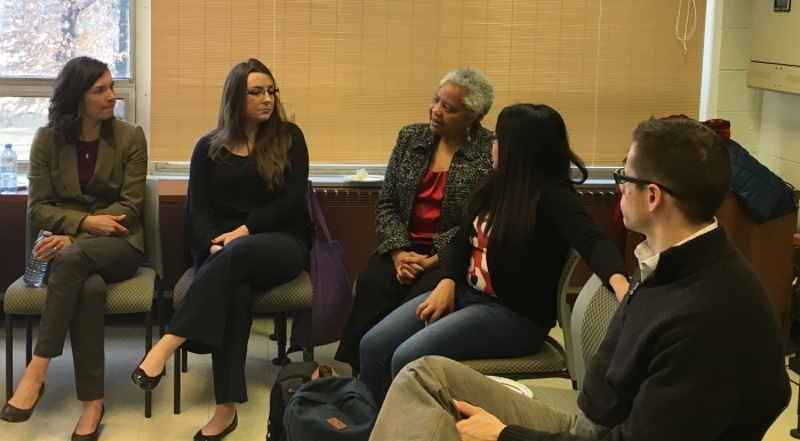 Gun Violence Panel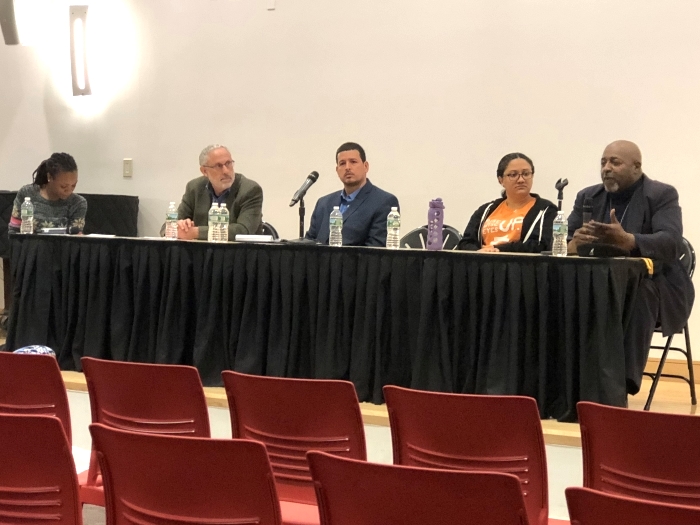 Just Community Committee Members
Just Community Committee Chairs:
Abigail Jackson, Assistant Director of Alumni Relations
Margaret Lloyd Sieger, PhD, Assistant Professor
Members:
Caitlin Elsaesser, PhD, Associate Professor
Ann Marie Garran, PhD, Associate Professor
Ziba Kashef, Publicity/Marketing Administrator
Regina Lester-Harriat, LMSW, Assistant Professor in Residence
Carmen Ragland, Financial Assistant
Rebecca Thomas, Professor and Director, Center for International Social Work Studies
Lisa Werkmeister Rozas, PhD, Associate Professor
Student-Centered Collaborations for Social Justice
Just Community collaborates with Graduate student interest groups and instructors seeking to amplify social/racial justice in their curriculum.  Past collaborations include:
April 2020 - COVID-19 x Environmental Justice Student-Led Virtual Dialogue
December 2019 - BH 365 x JC Solidarity Hour on Anti-Racist Allyship
April 2019 - School Social Work & Social Justice Lunch 'n' Learn featuring alumni Ayesha Clarke, MPH, MSW (Compass Youth Collaborative) and Alisha Simpson-Watt, MSW (Hartford Public Schools)
March 2019 - Student-led Faces of Homelessness event organized by MSW student Nary Rath
We Want to Hear from You
Looking for Just Community to support your event? Seeking volunteer opportunities or social justice resources? Please email us at: ssw.justcommunity@uconn.edu.