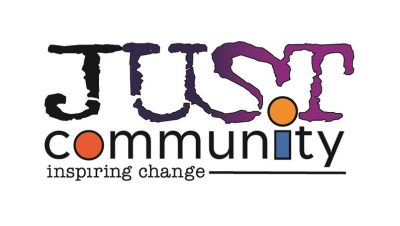 Just Community
Just Community is a Major Committee within the School of Social Work comprised of faculty, staff, Graduate Student Organization MSW and PhD student representatives, and a BSW student representative. Its role is to facilitate and support social justice-focused initiatives and to enhance inclusion of more anti-oppressive practices in our classrooms, programming, and daily interactions with one another at the school and our many communities. Through the power of education and advocacy we work for social change within the ideological, intrapersonal, and institutional levels. The ultimate goal is justice and inclusion for all.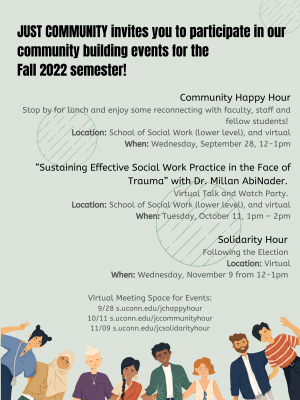 Why We Are Here
Our Mission
To create a community at SSW that is capable of dialoging with, learning from, and participating in mobilizing social justice efforts towards the many social injustices and forms of oppression and inequities within our communities as well at the local and national levels.
Our Purpose
To provide spaces within the School for faculty, staff, and students to come together to educate, discuss, and debrief issues relevant to the social work profession within the context of our socio-cultural/political/historical and economic environments. These opportunities aim to help enhance personal and professional development, mobilize advocacy efforts, and promote an inclusive environment.
Within the Fabric of SSW
School's Dedication to Anti-Oppressive Practice & Social Justice
Our dedication to anti-oppressive practice and social justice is reflected in our ongoing efforts to recruit and retain a diverse staff, faculty, student body, and associated field agencies. We are also committed to working with and within diverse communities. In accordance with the NASW Code of Ethics, we educate the School of Social Work community on anti-oppressive practice and social justice highlighting the importance of understanding intersectionality and the role that power and privilege play on individual, institutional and cultural levels. Particular attention is given to developing critical consciousness, examining the structural forces in our society that shape our socio-political environment,  and promoting advocacy that mobilizes social justice efforts.
Just Community Solidarity Hour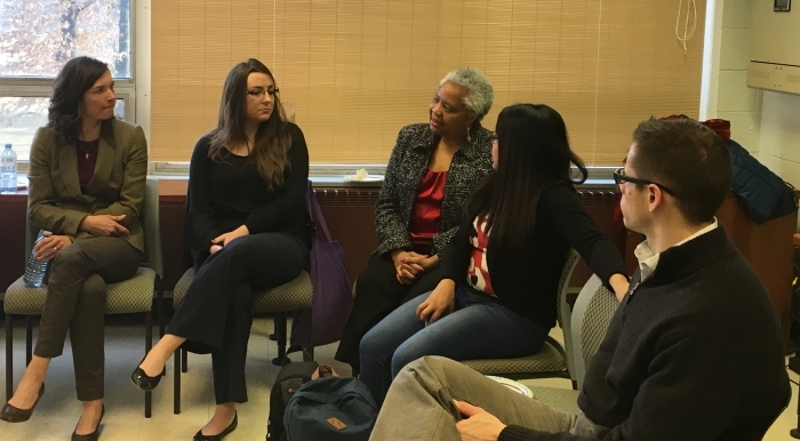 Gun Violence Panel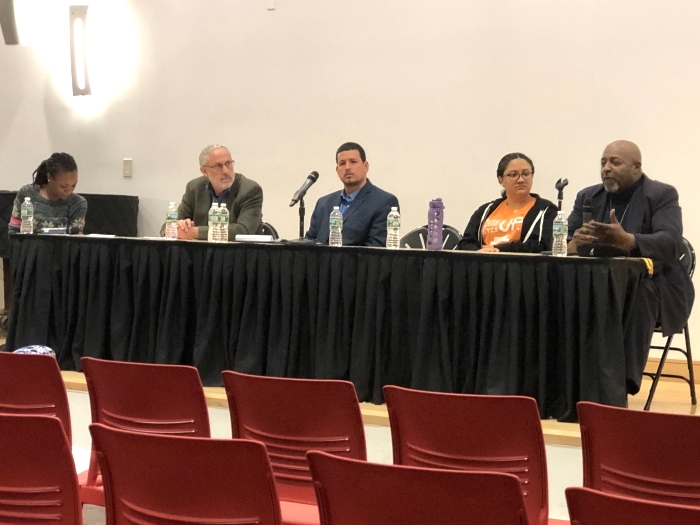 Just Community Committee Members
Just Community Committee Chairs:
Abigail Jackson, Assistant Director of Alumni Relations
Regina Lester-Harriat, LMSW, Assistant Professor in Residence
Members:
Kimberly Campbell, MSW, Extension Assistant Professor
Lukas Champagne, PhD Student
Caitlin Elsaesser, PhD, Associate Professor
Ann Marie Garran, PhD, Associate Professor
Trisha Hawthorne-Noble, Director of OSAS
Margaret Lloyd Sieger, PhD, Assistant Professor
Carmen Ragland, Financial Assistant
Lisa Werkmeister Rozas, PhD, Associate Professor
Student-Centered Collaborations for Social Justice
Just Community collaborates with Graduate student interest groups and instructors seeking to amplify social/racial justice in their curriculum.  Past collaborations include:
April 2020 - COVID-19 x Environmental Justice Student-Led Virtual Dialogue
December 2019 - BH 365 x JC Solidarity Hour on Anti-Racist Allyship
April 2019 - School Social Work & Social Justice Lunch 'n' Learn featuring alumni Ayesha Clarke, MPH, MSW (Compass Youth Collaborative) and Alisha Simpson-Watt, MSW (Hartford Public Schools)
March 2019 - Student-led Faces of Homelessness event organized by MSW student Nary Rath
---
Please contact us if you are interested in JC supporting your event!
We Want to Hear from You
Looking for Just Community to support your event? Seeking volunteer opportunities or social justice resources? Please email us at: ssw.justcommunity@uconn.edu.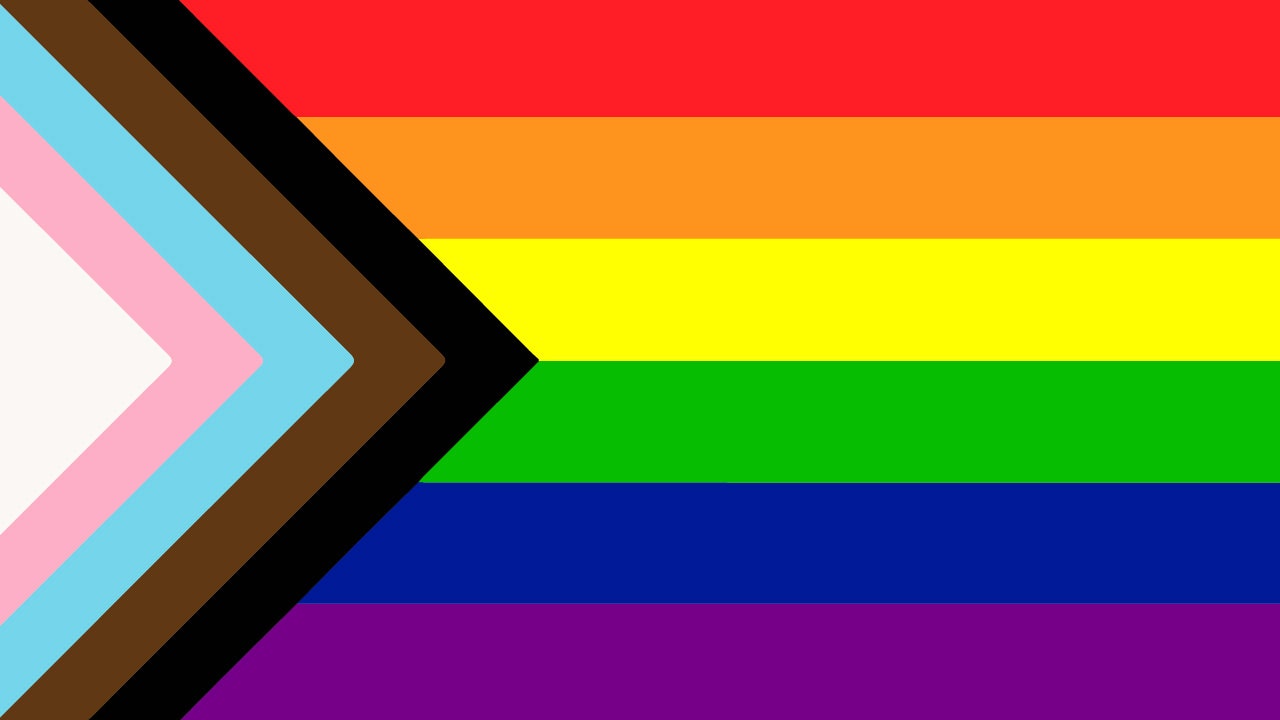 Social Justice Spotlight Archives
October 2020: El Pueblo Unido Jamas Sera Vencido
October 2020
El Pueblo Unido Jamas Sera Vencido
by: Diego Alvarez, Advanced Year, IGFP '21 Candidate
Happy Hispanic Heritage Month; for all of us who celebrate the pride and achievements of Hispanic life! We celebrate together, today, this special occasion that fills us all with happiness. This celebration signifies our remembrance of the many achievements by important and historic Latinx individuals, who through their hard work and sacrifice, broke down the barriers of stereotypes and stigma here in the United States against Latinx communities and individuals. We also celebrate our efforts to continue fighting for justice, equality, dignity, and the advancement of el pueblo Latino; the Latinx people. Now, more than ever, we have to navigate through the struggles that el pueblo is facing, in this country, today. We need to understand that the fear that our Latinx families are experiencing, particularly persons who are undocumented, is real and existential. The toxic and aggressive political climate that continues to put fear into the spirits of nuestras familias, our families, must be understood and recognized. As a case worker, I have seen the fear in the eyes of Latinx families that I work with. Now, more than ever, our pueblo needs us.
As we celebrate our rich and diverse Latinx heritage, we have to remember that it is okay to also celebrate our individuality and evolution. As a Venezuelan-American Immigrant myself, my family came to the United States with hopes and dreams, all while preserving nuestra cultura, our culture. I know how important la familia, family, is as an integral part of our culture. We have all had to navigate our personal struggles while adapting to life in the United States. But it is important that we do not forget where we come from. It is also important to understand that many of our family members may not feel the same way we do about the status quo. This creates immense conflict within, and some of it, as I am sure, is sorrowful. Many of us feel polarized, unable to connect with our very own families. We may feel that our version of la familia is in jeopardy. We cannot let the toxic political climate divide us from our very own families. We have to carry the orgullo Hispano, Hispanic Pride, and remember the very struggles that our pueblos are facing in our countries of origin. We are now facing these struggles here in America.
Celebrating Hispanic Heritage Month further requires us to continue carrying the pride and honor we have come to showcase as people. We cannot, under any circumstance, allow division to tear us apart in a critical moment of history, where we should be united in solidarity with our African American brothers and sisters and Latinx persons of color. Let us celebrate Hispanic Heritage Month with happiness and joy, and to remember that el pueblo unido jamas sera vencido.
September 2020: "Sometimes we have to do the work even though we don't yet see a glimmer on the horizon that it's actually going to be possible." ― Angela Y. Davis
September 2020
"Sometimes we have to do the work even though we don't yet see a glimmer on the horizon that it's actually going to be possible."
― 
A new school year begins. Are you feeling excited? Hopeful? Looking forward to the semester? If you are like most Americans with a properly functioning conscience, the answer is probably no. Any excitement about returning to classes is likely mitigated by overwhelming grief at the tragic losses of our Black brothers, sisters, and trans siblings. Any feelings of hope may be stifled by the fact that, even after 173 days, officers Jonathan Mattingly, Brett Hankinson, and Myles Cosgrove are still walking free. Looking forward probably arouses intense anxiety in the face of the unknown: will my kids even be in school next week? In three weeks? Will there be a run on toilet paper again?
Perhaps you are a person with a disability worried about how you will be treated in a post-COVID educational setting, despite alerting the disabilities office of your needs. Perhaps you are a Black person tired of grieving and living in fear and being expected to be "professional" while doing so. Perhaps you are an Asian person wondering if non-Asian people have forgotten about the ongoing racism you're experiencing stemming from COVID-19. Perhaps you are a Puerto Rican person grieving the climate change and political assaults that continue to ravage the Island. Perhaps you are a Native American person infuriated at watching the United States persist in its 400-year legacy of colonialism: lying and stealing both quantity, and quality, of sacred lands and resources. Perhaps you are a trans person fearful of the next attack or murder of another trans woman. Perhaps you are a low-income person wondering how you will be okay financially if conservative lawmakers get their way. Perhaps you are a multiply-privileged white person experiencing the early (or always) growing pains of new racial and social justice consciousness. Perhaps you are you—navigating all of these feelings and hurts and overwhelms in a year that just won't quit.
The purpose of this Spotlight is not to dredge up awful feelings (REALLY?, you might be asking). The purpose of this Spotlight is to remind you of your courage, your depth of feeling and inner resources, your integrity, your love of truth and justice, and your ability to persevere in spite of all that life is throwing at you right now. You have arrived to the starting line of the 2020-2021 school year. The courage, commitment, and organizational skills it took to do just this are praise-worthy. And nothing from this point forward will be accomplished alone. Your ancestors didn't bring you this far only to drop you now. You are among a community of feelers, and healers, and changers and doers. Yes, there is work to be done. Yes, it is way more than any one person can do. Yes, it will be frustrating. Yes, you will need to take rests. And, yes, you can do it. You are a future social worker. The world depends on your ability to bring the empathy, problem-solving, passion, and creativity that you practice every day. You are here for a reason. We all are.
---
Current students and SSW faculty/staff, do want to write the next Spotlight article? Submit 200-300 words on topic of your choosing to ssw.justcommunity@uconn.edu.
Summer 2020: Black Lives Matter
Summer 2020
Black Lives Matter
Black Lives Matter.
Black Lives Matter.
Black Lives Matter.
Black Lives Matter.
Black Lives Matter.
Black Lives Matter.
Black Lives Matter.
Black Lives Matter.
Black Lives Matter.
Black Lives Matter.
Black Lives Matter.
Black Lives Matter.
Black Lives Matter.
Black Lives Matter.
Black Lives Matter.
Black Lives Matter.
Black Lives Matter.
Black Lives Matter.
Black Lives Matter.
Black Lives Matter.
Black Lives Matter.
Black Lives Matter.
Black Lives Matter.
Black Lives Matter.
Black Lives Matter.
Black Lives Matter.
Black Lives Matter.
Black Lives Matter.
Black Lives Matter.
Black Lives Matter.
Black Lives Matter.
Black Lives Matter.
Black Lives Matter.
Black Lives Matter.
Black Lives Matter.
Black Lives Matter.
Black Lives Matter.
Black Lives Matter.
Black Lives Matter.
Black Lives Matter.
Black Lives Matter.
Black Lives Matter.
Black Lives Matter.
Black Lives Matter.
Black Lives Matter.
Black Lives Matter.
Black Lives Matter.
Black Lives Matter.
Black Lives Matter.
Black Lives Matter.
Black Lives Matter.
Black Lives Matter.
Black Lives Matter.
Black Lives Matter.
Black Lives Matter.
Black Lives Matter.
Black Lives Matter.
Black Lives Matter.
Black Lives Matter.
Black Lives Matter.
Black Lives Matter.
Black Lives Matter.
Black Lives Matter.
Black Lives Matter.
Black Lives Matter.
Black Lives Matter.
Black Lives Matter.
Black Lives Matter.
Black Lives Matter.
Black Lives Matter.
Black Lives Matter.
Black Lives Matter.
Black Lives Matter.
Black Lives Matter.
Black Lives Matter.
Black Lives Matter.
Black Lives Matter.
Black Lives Matter.
Black Lives Matter.
Black Lives Matter.
Black Lives Matter.
Black Lives Matter.
Black Lives Matter.
Black Lives Matter.
Black Lives Matter.
Black Lives Matter.
Black Lives Matter.
Black Lives Matter.
Black Lives Matter.
Black Lives Matter.
Black Lives Matter.
Black Lives Matter.
Black Lives Matter.
Black Lives Matter.
Black Lives Matter.
May 2020: Anti-Asian Racism Cost American Lives
May 2020
Anti-Asian Racism Cost American Lives
According to a timeline published by the World Health Organization, the first cases of COVID-19 were identified by the Wuhan Municipal Health Commission on December 31, 2019. Within two weeks, WHO published guidance on testing and disease management. These models were based on earlier experiences with SARS and MERS. By January 23, the Chinese government imposed stay-at-home orders in Wuhan and other parts of the country.
What was the U.S.'s initial response to watching the disease spread, and China's disease management approaches? Their shelter-in-place and case tracking strategies were described in Western media reports as "brutal", "draconian", and compared to imprisonment. Despite China sharing the genomic sequence of the virus on January 12, and sharing of numbers of infections and deaths to the WHO in late January, U.S. media outlets fixated on a narrative that Chinese  "covered up" information regarding the disease. Furthering this fallacy, President Trump withdrew funding from the WHO in April. This action despite the fact that, by April 15, most U.S. states had implemented public health measures similar to China's, that China was reporting no new cases for the first time in three months, and that the U.S. had over 600,000 cases despite low rates of testing.
The U.S.'s lack of trust, deep skepticism, criticism, and fear of China, verbal and financial attacks against China and China's supporters, and rise in assaults against Asian Americans, followed by later adoption of the same shelter-in-place practices without giving proper credit or gratitude, reflects the mechanisms of white supremacy and anti-Asian racism. In this case, in addition to the extensive emotional and physical harms to Asian Americans, U.S. cases are now well-over one million, with close to 70,000 deaths. Where would we be if we had listened to China in January? How many people would be alive right now?
April 2020: To Our Community Members of Asian Descent: Thank You
April 2020
To Our Community Members of Asian Descent: Thank You
Chinese people are valuable and worthy simply for being human. American descendants of China, and all Asian countries, are also valuable and worthy for being human. Beyond inherent worth, Chinese people have contributed to the cultural, economic, educational, and social state of the world for thousands of years. Recently, racist and xenophobic sentiment is being hurled at Asian and Asian American people, including directly from the President. If you experience or witness this type of incident involving anyone in the UConn Community, we encourage you to report it using the University's Bias Reporting Form.
We wish to explicitly state that we stand with our Asian and Asian American students, staff, and faculty. The University (and the world) would not be the same without you.  Finally, we wish to say thank you to the social workers on the front lines of the COVID-19 pandemic, including social workers of Asian descent. You are saving lives.
In conclusion, we thought it might be nice to remind our readers of global contributions from, and other amazing things about, China and Chinese people.
The Chinese invented toilet paper in the 6th century AD.
More people speak Mandarin, a Chinese Dialect, as their first language than any other language in the world.
In 130 AD, Zhang Heng invented the first instrument for monitoring earthquakes, and it could detect and indicate the direction of the earthquake.
The national animal of China is the Giant Panda.
China is considered to be the oldest civilization with some historians marking 6000 BC as the beginning of the Chinese civilization.
China is home to the world's oldest written language that is still in use.
Soccer was invented in China 2,200 years ago.
Paper money was invented in China.
The Chinese were using the decimal system around two thousand years before the first known use in European mathematics. Also, the Chinese were the first to use a place for zero.
One in every five people in the world is Chinese. China's population is four times larger than that of the US.
China is the leading bicycle producer.
The Great Wall of China is the largest man-made structure in the world, extending 8,850 km (5,500 miles).
Instead of black, white is the Chinese color for grieving and funerals.
The first known Homo erectus,the Peking Man, who lived between 300,000 and 550,000 years ago, was found in China.
The oldest piece of paper in the world was found in China. Chinese paper was so long lasting that it was sometimes used for clothing and even as body armor.
During the first half of the 20th century, Shanghai was the only city in the world to accept Jews that were escaping the Holocaust without an entry visa.
A civil servant, Su Song, built the first mechanical clock between 1088 and 1092 AD.
China's Grand Canal is the world's longest and oldest canal.
All of China's railways lines put together could loop around the earth twice.
China has the oldest calendar in the world. This lunar calendar has twelve zodiac signs and takes sixty years to complete.
China invented ice cream 4,000 years ago.
China's Elderly Rights Law mandates that adults must regularly visit their parents if their parents are over age 60.
A new skyscraper is built in China every 5 days.
The Chinese New Year celebration lasts for 15 days, beginning on the new moon between January 21 and February 20.
China has the largest economy, and second largest nominal GDP, in the world.
Sources:
March 2020: 896 Days
March 2020
896 Days
896 days. 128 months. Nearly two and a half years. This is how much time has passed since Hurricane Maria devastated Puerto Rico. On top of this, just 3 months ago, a magnitude 6.4 earthquake shook the island, with aftershocks expected to persist for years to decades. And, despite Congressional authorization of funding to repair and rebuild homes and infrastructure, the Island is still struggling to recover from these disasters. Why? Because the funding has not been fully dispersed. Through a combination of the Senate failing to approve funds for earthquake repair, and the Trump administration's restrictions placed on the distribution of the emergency relief funds, Puerto Rico continues to wait amid a landscape of chaos. For example, the New York Times reports that the Trump administration is barring funds being spent on the island's electrical grid or its "$15-an-hour minimum wage for federally funded relief work".
Reflecting the scope of this disaster and the U.S. government's failure to protect its citizens, Puerto Ricans have come to Connecticut seeking respite. These climate refugees follow in the footsteps of hundreds of thousands of other Puerto Rican people. The Hartford Puerto Rican Parade Organization reports that the first Puerto Ricans arrived in Connecticut in the 1840s. Currently, Connecticut is home to the largest percentage of Puerto Ricans per capita and the 6th largest population of Puerto Ricans in the U.S. Connecticut's cultural, educational, social, and economic landscape has been profoundly and positively impacted by the contributions of our Puerto Rican citizens and communities. Since Hurricane Maria, more than 2,000 students fleeing the disaster have enrolled in Connecticut schools. An additional 40 students arrived following the earthquake. These are our community's children to care for.
Just Community is looking to support organizations working with Puerto Ricans impacted by these disasters both on the Island and in Connecticut. Stay tuned for future announcements.
February 2020: Black History 365
February 2020
Black History 365
By: Krystina Jackson, MSW Candidate '20, Policy Practice, and Lead Organizer, Black History 365 Campaign 
When we think of Black History, it's usually February that automatically, or systematically, comes to mind. However, Black life, experiences, and history happens every day. To be a Black person in a predominantly white institution and not see your reflection unless discussing clients and oppressed populations both prevents me and other students of African descent from learning the truth and continues false narratives of white supremacy. To be in a social work graduate program, with curriculum written within the walls of white history, does me and other students no good. Recognizing Jane Addams as the first social worker and referencing the NASW as our only moral code are parts of this false narrative. If the truth of Black social work history was exposed and accepted, the content we would see in the classroom would look very different. Black people, including Black social workers, would occupy more time in more positive ways, and take up more space, unapologetically.
Remedying the effects of false, white supremacist narratives requires that universities, and educational institutions as a whole, create safe spaces that encourage comradery amongst students of similar identities and interests. Institutional leaders must discourage the use of tokenized months, encourage allyship conversations, and find ways to celebrate marginalized identities in a way that is truly American, through redefining the way we perceive the norm. This month, and all other months out of the year, I challenge all UConn School of Social Work faculty and instructors to think beyond the box they've been taught, re-analyze what it means to be an educator, and understand how revolutionary Black history and Black people are to the field of social work.
The UConn School of Social Work Black History 365 Campaign is a years-length of programming to grow beyond the historical band-aid that Black History Month symbolizes. Spearheaded by students of African descent, this campaign strives to create a new culture within our school where the highs and lows of Black history and experiences are accessible to students for the entire academic year. Our priorities include but are not limited to representation, safe spaces, open dialogue, and diverse content. Please visit uconnblackhistory365.eventbrite.com to register for BH365 events.
"Walls are bridges, turned sideways." - Angela Davis
January 2020: A Decolonizing(?) New Years Resolution
January 2020
A Decolonizing(?) New Years Resolution
It is 2020. A new year. A new decade. The year I finally stick with my gym membership, right?
I am choosing a different goal. One focused on my soul, not my body. As I look forward to the future, I desire to see, feel, and listen to the past. In service of this New Year's Resolution, I (a non-Native, white colonist) in Hartford, Connecticut must breathe in—deeply inhale—the truth that the land upon which I live, work, and learn is Indigenous territory. Furthermore, the UConn Native American Cultural Programs' land acknowledgement (written with the co-founders of the Akomawt Educational Initiative) reminds me that this history is, in fact, a current reality: "colonialism is a current ongoing process, and we need to build our mindfulness of our present participation".
A colonialist mindset is one that is blind to the inherent value of that which has existed, or currently exists. The colonialist enters a space, ignores the history, culture, and humanity of its occupants, and envisions their own achievements, supremacy, or successes. The colonist seeks out the new and better -- the "over there", regardless of its effect on others. Anti-colonialism demands that I stay in my chair. That I, as a visitor, view myself as that – as an (uninvited) guest dwelling in an indigenous space.  A decolonizing ("ing" because it is a process that will never be finished) mindset humbly seeks out the history, narratives, and viewpoints of Indigenous Peoples—not as a mechanism for furthering white supremacy/white mastery, but as a mechanism of right-sizing and equalizing. The Native Peoples upon whose territory I (and we) stand include the Mohegan, Mashantucket Pequot, Eastern Pequot, Schaghticoke, Golden Hill Paugussett, Nipmuc, and Lenape Tribes. These Tribes have protected and stewarded this rich and beautiful land for millennia. As a non-Native white colonist, I have directly and immensely benefited from the labor, intelligence, wisdom, community, and character of these Native hosts. The least I can do is acknowledge these benefits, say thank you, share what I have, and clean up after myself. This author offers their deepest, most sincere thank you to these tribes, for the years past and the years to come. Thank you to the Native American Cultural Programs and the Akomawt Educational Initiative for this knowledge and call to be better. Thank you for a new year. Here's to leaving it better than I found it.
December 2019: Racism as a Disease: An Anti-Racist Analysis
December 2019
Racism as a Disease: An Anti-Racist Analysis
Anonymous Submission
I have lived in a house where some days the sky is blue and other days it is green; where some days the rules apply, and some days they do not; where I get in trouble for saying something one day that was fine to say yesterday. I know the truth deep down; the truth is that things feel scary and confusing. But I am told things are fine and that I am over-reacting. I definitely can't talk about it with anyone. I will definitely get in trouble if I tell anyone else the truth. So maybe I don't know the truth? I thought I had figured out that if I just do this and not that, I would be loved. My expectations must be unreasonable. Life is hard; it just is. Sometimes things are really fun and nice. If I just give more love and more attention, and make myself smaller and more lovable, will I be treated well? I am so tired. My heart hurts.
Am I talking about alcoholism? Or about racism?
In this anti-racist analysis, the two are very similar. Both involve navigating a landscape of fear, confusion, and self-centeredness, but being told the opposite. Both involve one person/party/racial group that is so fixated on making themselves comfortable and safe, that the other person/party/racial group is at best, invisible, and at worst, treated like emotional garbage pails.
Unfortunately, like in the case of a person living with an alcoholic, People of Color have a very difficult time convincing white people of their racism, no matter how much data or logic or reason, or wishing or pleading or demanding. And, of course, like living with an alcoholic, the endless sacrifice and self-betrayal results in profound feelings of anger, self-loathing, and frustration, and, eventually, physical health problems and death.
Perhaps, similar to addiction, the only person to get through to a white person about racism, is another white person. And, like alcoholism, it may be that the effective approach is one of gentleness and radical love and acceptance of all parties involved. To those of you reading who have been impacted by racism: You are right. What you have felt and seen and heard is real. You are a lovable and worthy human just for breathing. To those of you reading who have impacted others with your racism: You are not bad. There is hope. You are a lovable and worthy human just for breathing.
Getting into recovery from alcoholism begins by truly admitting to one's innermost self that one suffers from the illness. Getting into "recovery" from racism may begin the same way. Just like alcoholism, no one wants to become an alcoholic when they grow up. No one wants to be racist. But, if you are white and were raised on planet earth, you probably are. You were given power the minute you were born. And that power, plus explicit or implicit bias, equals racism1. Recovery starts by recognizing this fact, not as an opportunity to create shame and self-hatred (you may already feel those feelings and they are not helping to overcome racism), but as an opportunity to begin slowing down, looking around, and really living. Living in connection with others instead of competition. Living in community with others instead of isolation. Living in service of others instead of in fear. Come as you are, and let's heal together.
1 This definition of racism is based on work from the People's Institute for Survival and Beyond.
November 2019: My Journey (Attempting) to Understand Mental Health
November 2019
My Journey (Attempting) to Understand Mental Health
Anonymous Submission
It was when I was in the fifth grade that I went to see my first therapist. My family had noticed a difference in me, got worried, and wanted to take action to solve the issue. Little did they or I know at that time, that this was the beginning of an ongoing journey to try understanding mental health.
Looking back, I see how my perception of mental health has changed over the years. I remember when first going to the therapist and doctor to be prescribed medication, I felt ashamed, embarrassed. I kept it a secret from my friends because I didn't want them to think I was "crazy."
Then, after a few years of not getting the relief I sought, I myself began to think I was "crazy." Why was I like this? What did I do to deserve this? Why did life have to be such a struggle? I became hopeless, and decided to stop trying – because nothing worked anyway, why should I put all this effort into going to see a therapist who won't help me or go on medication that won't help me? This landed me in the hospital a few times. My family (mother especially) would watch in anguish as I spiraled with no solution in sight.
I'm not sure if it was time or a revelation, but I finally decided to go back to making efforts to become stable. I would go through the [long and arduous] trial and error process of finding a medication and therapist that worked for me. I am still here today. Although I still have difficult moments, I do feel able to cope with and manage my mental health issues.
In reflection, this experience has opened my eyes to the realities of mental health – how not only those with the issues are affected, but also those closest to them. I plan to share my experience with others, in hopes to take down the stigma of mental health issues. Hopefully by enough affected persons sharing their stories, it will help others not to feel alone. And, perhaps most importantly, sharing will help that young girl in the fifth grade know that she is NOT crazy and she will push through.
October 2019: Environmental Racism and Systems of Oppression
October 2019
Environmental Racism and Systems of Oppression
Gabrielle Amlicke | Policy 2020
Frederick Olmsted, an American Landscape designer best known for Central Park (New York, NY) and The Emerald Necklace (Boston, MA), also designed Keney Park (Hartford, CT). Keney Park runs vertically up and down the west half of Hartford's Northeast neighborhood. The northern areas of this city are where the highest rates of crime and vacancy are reported among a predominately Black population. The decaying aspects of the physical environment contextualize an aspect of loss, both for the community members and potentially for the general public. Despite powerful community-led efforts to reduce violence in the area, ongoing oppression and political marginalization undermine these activities.  Fear pushes even those who live in the Northeast neighborhood to seek out other community parks. Thirty-years of activities aimed at improving park conditions have been disrupted by the larger political failures to protect and nourish this neighborhood.
Famous natural spaces have the potential to stimulate individual and economic growth. Why then is Keney Park, which sits almost directly between NYC's "Central Park" to the south and Boston's "Emerald Necklace Conservancy" park system to the north, less renowned than its Olmsted siblings?
The answer: environmental racism.  Anytime environmental decisions are shaped by the intersectional identities of those benefiting from, or occupying, a particular environment—racism is at work. Social workers must identify and amplify these instances. We must advocate for investment in these environments or else the historic systems of oppression that harm our clients and our profession will never be dismantled.
September 2019: Becoming a Black social worker in a White world: A personal account on oppression, categorization, and assumption.
September 2019
Becoming a Black social worker in a White world: A personal account on oppression, categorization, and assumption
Jania Ross | MSW '20, IGFP
Frustrated, Fabulous, and Frivolously Political
As an African-American, I carry the honor of having melanated skin. This source of pride is also a mechanism for my devaluation, marginalization, and oppression. I experience these oppressions in small, inter-personal ways and in large, structural ways. Perhaps at the intersection of the micro and macro is my emerging identity as a social worker. As a young woman at the beginning of my professional journey, I have the unencumbered passion of a social worker still on 'the potter's wheel' – being shaped and molded into a trained practitioner.  I have a burning passion to connect and to advocate. I yearn for information and growth.
For me, however, the classroom is not a beacon of nurturing for my intellect, creativity and self. As an African-American woman, I too often find myself being underestimated, while being overeducated about the political side of social work. Rather than developing my professional identity through ethical reasoning, integrity, and self-growth, I am pruned to shed my personality. I am taught to conform to a certain manner of speech. I am taught to advocate and interact in a way that has been deemed appropriate. I am judged and critiqued to meet the standards of the individual who is considered superior in that "teachable" moment. How can I learn and grow in spaces rife with negative assumptions about my contributions, worthiness, passions, and personhood?
More broadly speaking, what kind of social worker does this process birth?
If I am to rise to my potential—if our profession is to rise to its potential—something needs to change. Social workers are not more effective when we conform to one [white] way of practicing; we are less effective. Social work is not more powerful when it conforms to one [white] way of advocating; it is less powerful. I am proud to be an African-American women and an African-American social worker. It is time for my peers, my instructors, my school, and my profession to be proud of me as well.
Summer 2019: A Personal Reflection on Values, Marginalization, & Effectiveness in Social Work Practice
Summer 2019
A Personal Reflection on Values, Marginalization, & Effectiveness in Social Work Practice
By A Graduating MSW Student
The first thing I wrote down on my first day of school (as a master's student) was that social workers are agents of change through institutions; interrupting and ending cycles of oppression.  I also learned that achieving this outward-facing mission starts with the ability to turn inward and self-reflect.  As I get ready to graduate, I know this to be true.
While I always considered myself an ally to all marginalized groups, an experience during my first field placement helped me understand dynamics of oppression in a nuanced, and personal, way.  In this placement, I, a Jewish queer woman, was assigned to work closely with a professional who was vocally anti-Semitic, misogynist, and homophobic. I felt absolutely defeated before the job even began.
As a single mom, defeat is not a feeling I often entertain. My reality is that if I don't create a path forward for myself and my son, there will be no path. For the first time I can remember, I was confronted with a situation I couldn't think, talk, or buy my way out of. I was dealing with a person who saw my humanity as less than his own simply because of my DNA. No amount of relationship building or meeting him where he was could convince him that I, and anyone who identifies as I do, was not a "white devil".
Although we were conducting work for an organization and cause about which I felt, and feel, passionately, and he comported himself with politeness, I could not un-know my partner's underlying hatred and un-hear his hurtful comments. For a time, I attempted to ignore my internal experience for the sake of doing this important work.  Not long thereafter, however, I left the project and that field placement.  Even if I wanted to, I could not do my job effectively working with someone who refused to see my basic humanity.
As I look to the future and begin to build a career, I will always keep this experience in mind. Not just because of the feeling of helplessness that I never want to repeat, but because it was a great lesson in the relationship between my value(s) and my effectiveness. In order to live out the mission I wrote down on the first day of the MSW program, I cannot compromise my own humanity.  The sacrifice is too great.
April 2019: A Personal Reflection on How our Bathroom Perpetuates Internalized and Institutionalized Cisgender Normativity
As an advocate for and member of the LGBTQ+ community, beginning to understand my role in the perpetuation of transphobia and cisnormativity is a complex and emotionally taxing process. As a cisgender person, I have benefitted from the privilege of cisnormativity: the assumption that all human beings have a gender identity which "matches" the sex they were assigned at birth.
Understanding the social context of transphobia allowed me to recognize the ways in which I have manifested this institutionalized oppression in my personal life. My understanding of gender began as a young child; roles and expectations for "women" and "men" were made clear to me implicitly (e.g., gendered toys I got for birthdays) and explicitly (e.g., boys and girls lines in grade school). Psychological science sheds some light on this phenomenon. Using the binary is a cognitive shortcut that makes it easy to "distinguish" people by gender. And, as a result, uncomfortable feelings, including fear and threat, may arise when people do not fit into the existing heuristic. These feelings, consciously or unconsciously, contribute to people's decision-making. With cisnormative people in power, institutional trans* oppression continues.
Intellectually understanding these barriers to trans* inclusion, and believing myself to be someone who practices trans* acceptance, did not inoculate me a lifetime of socialized gender construction as I recently learned. In the beginning of the semester, I met a person who is not cisgender and was soon confronted with my own cisnormative biases and oppressive personal assumptions during an interaction that occurred in an institutionally oppressive space. While using the women's restroom in the UConn School of Social Work building, my peer entered. Although I know they are not cisgender, I thought: "oh, they're actually female." I immediately felt shame and embarrassment at this thought. I knew that my internal curiosity about their "actual" sex was inappropriate and irrelevant, as they were simply trying to use the restroom. More importantly, by thinking the word "actually," I completely overrode the individual's expressed gender identity with my personal assumption.
March 2019: Voting (& Organizing & Testifying & Running for Office) is Social Work
March is Social Work Month. March is also the halfway point of the Connecticut legislatures' current session, which runs until June 5. Several important social justice issues.pdf are up for debate, including minimum wage, family leave, Medicaid eligibility, changes to sales tax, and marijuana legalization. While the majority of social workers are employed in micro clinical settings, and may consider political issues beyond the scope of their vocation, in the words of the late Nancy Humphreys , the founder of the Humphreys Institute for Political Social Work and past president of NASW, "voting is social work". Living out our social work values includes educating ourselves on political issues, and taking action to support our positions. The question may then become, how do we take action?
During the first weekend of March, over 120 social workers from across the country gathered to participate in the 24th annual Humphreys Institute Campaign School to learn about developing, implementing, and winning a local, state, or national election. Participants heard from current and past social worker legislators and took steps to outline their future political participation. Although one goal of the Campaign School is to jump start social workers' political careers, it was noted frequently that the political landscape is broad; there is room for all personalities (I see you introverts), strengths, and talents. Write letters, call, or email your elected officials. Volunteer at an organization doing work you support. Testify during a public hearing. For those who want a buddy when entering the Connecticut legislature, join us for Social Work Lobby Day on March 11. Meet at the Legislative Office Building at 10 a.m. Bring your heart, your courage, and your questions!
February 2019: Black Lives Matter at School
This week, across the US, schools are engaging in actions and lessons designed to teach students about "structural racism, Black identity and history, and restorative justice and related issues". Momentum for this effort stems from the long history of inaccurate information, or total erasure, of people of color in educational materials and settings across our school system. Children of color are subject to racism from peers and educators, policing, and disproportionate disciplinary measures. Teachers are 82% white. Schoolhouse Live published this video highlighting these realities. As Israel Presley states in the video, when people of color are included in the curriculum, content highlights positions of oppression, rather than strength.
Changing the paradigm requires that everyone, not just people of color, demand and make changes. BLM@S provides numerous clear, actionable, and evidence-based ideas, including increasing the number of trauma-trained social workers and decreasing police presence in schools, highlighting the achievements of people of color from ancient history to current day (including, for example, the achievements of non-enslaved people during antebellum America) and ending white-savior narratives, and mandating black and ethnic studies.
As social workers, our code of ethics requires that we fight against social injustice. Ensuring that every child in America receives high-quality, loving, and safe education is paramount to healing from our country's past and present.