Scholars in Aging
Through a generous gift from a donor, the School of Social Work established the Scholars in Aging Program in 2022. This stipend-based internship program prepares Master of Social Work (MSW) students with specialized classroom and field training to serve the growing number of adults aged 65 and older within diverse communities and institutional settings.
The program will accept a cohort of eight students who have a strong interest in working with adults aged 65 and older. Priority consideration will be given to MSW advanced-year students who have chosen the Individuals, Groups and Families concentration; available spaces will be filled on a first-come, first-served basis.
Read the UConn Today story about this program.
Background
Older adult practice is a critical area for growth in the social work profession. According to the Population Reference Bureau's Population Bulletin, "Aging in the United States," there are significant and unprecedented increases in the population growth of people 65 and older:
The number will nearly double from 2018 to 2060
The proportion of this population will rise from 16% to 23%
The population is becoming more racially diverse
The Covid-19 pandemic has underscored the medical and social fragility -- and in many cases, the resiliency -- of our older adult population. There are many opportunities for the social work profession to work with older adults and their families within diverse community and institutional settings.
Given that Connecticut has the 6th highest population of older adults in the United States, our state has a critical need to develop the workforce serving the growing number of adults aged 65 and older. The Scholars in Aging Program is a unique opportunity for MSW students to gain specialized classroom and field training for careers in gerontology social work within many communities and institutional settings.
Student Eligibility:
Must be matriculated
Minimum cumulative GPA 3.0 and remain in good academic standing
Meet UConn and agency internship requirements
Key Elements of the Program
Students agree to:
Enroll in the SSW Social Gerontology Course
Complete year-long internship in an aging agency
Attend bi-weekly group supervision
Attend one SSW Scholars in Aging lecture
Present cumulative learning experience on older adults
Students will receive a $1,000 stipend after successful completion of coursework and field at the end of the fall ($500) and spring ($500) semesters.
In addition to this opportunity for students, the Scholars in Aging Program provides:
a Social Work and Gerontology lecture series
small seed grants for practice-based faculty research with older adults
sponsorship of continuing education programs for practicing social workers
For more information contact Program Assistant Carmen Ragland at carmen.ragland@uconn.edu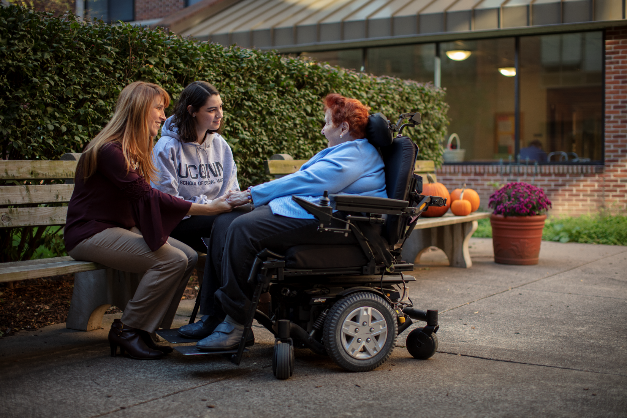 Webinar Series
Scholars in Aging
Webinar Series
Watch Part One: We're All Aging: What does that mean for social workers?