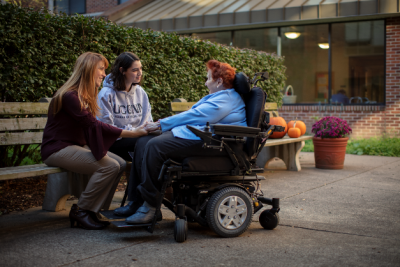 Through the generous gift by a donor, the School of Social Work has established the Scholars in Aging Program, a new stipend-internship program that will prepare interested Master in Social Work (MSW) students to serve the growing number of adults aged 65 and older. A cohort of eight students will be chosen to participate in an aging setting. Key elements of the program include:
Field placements and field units for our Master in Social Work (MSW) students
Stipends for these students
Specialized courses for those field students and for the general student body
Sponsorship of a Social Work and Gerontology lecture series
Provision of small seed grants for practice-based faculty research with older adults
Development of continuing education programs for practicing social workers
Background
According to the Population Reference Bureau's Population Bulletin, "Aging in the United States," there are significant and unprecedented increases in the population growth of people 65 and older:
The number of those 65 and older will nearly double from 2018 to 2060
The proportion of this population will rise from 16% to 23%
The population is becoming more racially diverse
Challenges for this population include:
Wide economic disparities among racial and ethnic groups
More older adults are divorcing, leaving more single households, particularly for women
A projected 50 percent increase in older adults need for nursing home care from 2017 to 2030
Significant rise in those living with Alzheimer's disease, doubling from 2017 to 2050
Connecticut is the 6th oldest state in the nation in proportion of older adults. It is projected that the number of the state's people ages 85 and over will more than double by 2050 from the rates in 2017.
The current Covid-19 pandemic has underscored the medical and social fragility -- and in many cases, the resiliency -- of our older adult population. There are many opportunities for the social work profession to work with older adults and their families within multiple community and institutional settings. The need for the development of targeted field and classroom training of Master of Social Work (MSW) students to pursue careers in gerontology has never been clearer.
Both the Council on Social Work Education (CSWE) and the National Association of Social Workers (NASW) have developed extensive policy papers and curriculum resources to develop the geriatric social work workforce. Older adult practice is a critical area for growth in our profession.
Save the Date
Scholars in Aging
Two-part Webinar Series
"We're All Aging," Jan. 31 at 6:00 – 7:30 PM
Check back for more information coming soon.