The Puerto Rican & Latin@ Studies Project (PRLSP) was founded in 1980 under the leadership of Dr. Julio Morales as a model program funded by the National Institute of Mental Health (NIMH). The Project is unique because of its mission to advance the well-being of Latina/o/x/e communities through education, research and community engagement on local, national and global levels. It is one of the few Projects of its nature in schools of social work in the United States. The PRLSP has been referenced and used as a model in various arenas such as the Council on Social Work Education and different social work programs throughout the nation.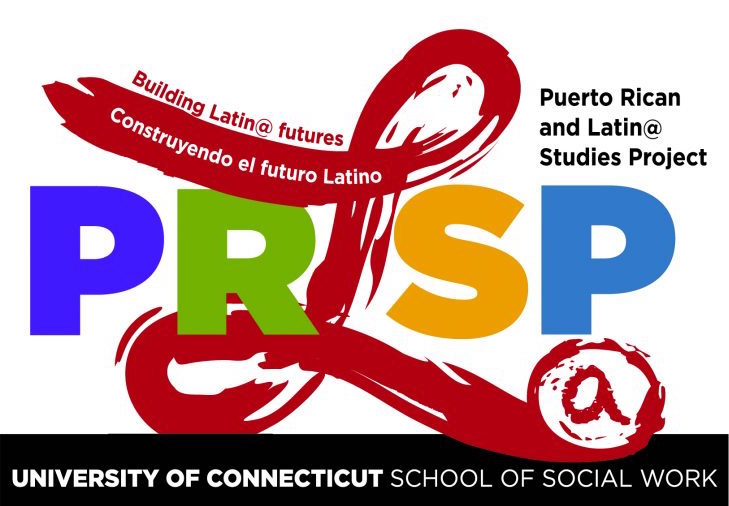 Mission and Goals
The Puerto Rican and Latin@ Studies Project helps prepare social workers to competently serve individuals, groups, families, and organizations within Latin@ communities through research, teaching, and service; and to increase the advancement of knowledge and research regarding Puerto Rican and Latin@ matters.
Research and Innovation: To create distinctive and internationally recognized contributions to scholarship; and to address solutions for pressing issues affecting Puerto Ricans and Latin@s in Connecticut, in the United States, and globally.
Teaching and Learning: To increase Puerto Rican and Latin@ student recruitment and retention, as well as BSW, MSW, and Ph.D. degree completion. To train social workers and service providers.
Outreach and Engagement: To establish mutually beneficial partnerships and collaborations with Connecticut residents and agencies and institutions in Connecticut, and globally. Participate in community and interprofessional partnerships in order to promote the well-being and quality of life of Puerto Rican and Latin@ individuals, families, and communities. To engage with the PRLSP Advisory Board in an exchange of knowledge and in the collaboration of efforts on current issues affecting Puerto Rican and Latin@ communities. The Project is currently collaborating with the Puerto Rican Studies Initiative for Community Engagement and Public Policy.
'Tu Voz, Tu Influencia' Listening Sessions
On November 8, 2023, the 'Tu Voz, Tu Influencia' listening sessions commenced in New London, Connecticut, marking the initiation of a collaborative effort aimed at crafting a nonpartisan legislative agenda for the rapidly growing Latino community in Connecticut. This initiative provides a crucial and proactive platform for the Latino community to express their concerns within a secure environment and utilizes a fast-track mechanism to ensure their specific needs reach State officials working on legislative issues at the Connecticut Capitol.
The insights gathered during these sessions will be disseminated to state officials at an upcoming Latino leadership summit in early 2024 and a preliminary symposium with Latino elected officials in December 2023. These activities are integral to a broader initiative led by Latino leaders, working towards formulating a comprehensive agenda for the 2024 Legislative Session.
These events are organized by UConn's Puerto Rican and Latin@ Studies Project, UConn School for Social Work, The Nancy A. Humphreys Institute for Political Social Work, and the Connecticut General Assembly's Commission on Women, Children, Seniors, Equity, and Opportunity (CWCSEO).
Puerto Rico Travel Study Program
Since 1999, the School of Social Work and the University of Puerto Rico (UPR) have had a partnership that provides opportunities for our students to explore Puerto Rican culture and enhance their skills to work with Puerto Rican/Latino/a/x/e communities. The travel study program is for MSW students to learn about the history of Puerto Rico and the traditional values/customs; to increase understanding of the social, economic, political, psychological, and cultural dynamics that impact the lives of Puerto Ricans; and to heighten awareness of migration patterns, cultural identity formation and the impact of colonization, oppression and racism on Puerto Ricans. The visit to Vieques, Puerto Rico, exposes students to human rights violations and social injustices occurring on the island.
The next Puerto Rico travel study, SWEL 5333, is planned for 2025. For more information about this elective course, contact Milagros Marrero-Johnson, MSW at milagros.marrero-johnson@uconn.edu.