Loan T. Nguyen holds a Bachelor of Arts in Psychology from the University of Connecticut; a Masters in Social Work from the University of Connecticut School of Social Work; and maintains licensure in the State of Connecticut.  She has over 10+ years clinical experience working within an outpatient mental health treatment setting.  She has extensive training and experience in individual, group, and family psychotherapy.  In addition, she is competent in utilizing best practice methods to include Cognitive Behavioral Therapy, Dialectical Behavioral Therapy, and Eye Movement Desensitization and Reprocessing.
Ms. Nguyen is also a Captain within the CT Army National Guard and has over 18+ years of military experience.  She currently serves as a Behavioral Health Officer and promotes all aspects of mental health.  She regularly counsels service members to help control combat/non-combat stress through implementation of resiliency policies and programs.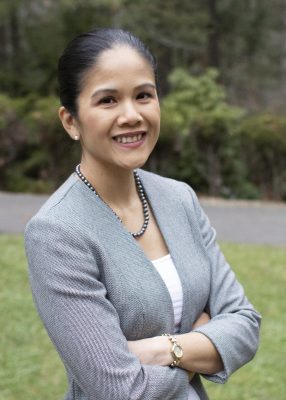 Further, Ms. Nguyen's commitment to the community is longstanding and evident through participation in various volunteer programs, including Big Brothers Big Sisters and the Asian Mental Health Collective.  Both mentorship programs were developed to match mentees with role models who can leave a positive, lasting impact through friendship and continued guidance.  Ms. Nguyen has also served on the American Savings Foundation Scholarship Committee for the past five years and was recently elected to join their Board of Directors.
As a proud two-time UConn alumna, Ms. Nguyen is equally excited to have been newly elected to join the UConn School of Social Work Alumni Board of Champions.  She is enthusiastic about her new role and is looking forward to advancing UConn SSW's mission through advocacy, philanthropic investment, and community involvement.
Ms. Nguyen currently lives with her husband Thien in Avon, CT.  She is an avid baker and CrossFit enthusiast.
---