Hats off to our 2021 graduates!
You did it! While the past year has been like no other, our BSW, MSW, and Ph.D. students met the challenges they faced and came through stronger and with new skills and more empathy. We salute our grads for a job well done and are thrilled for you all to enter the social work profession or continue your studies to make the world a more just and inclusive place. Read on for messages from School of Social Work faculty and staff, wishing you well as you embark on your next chapter.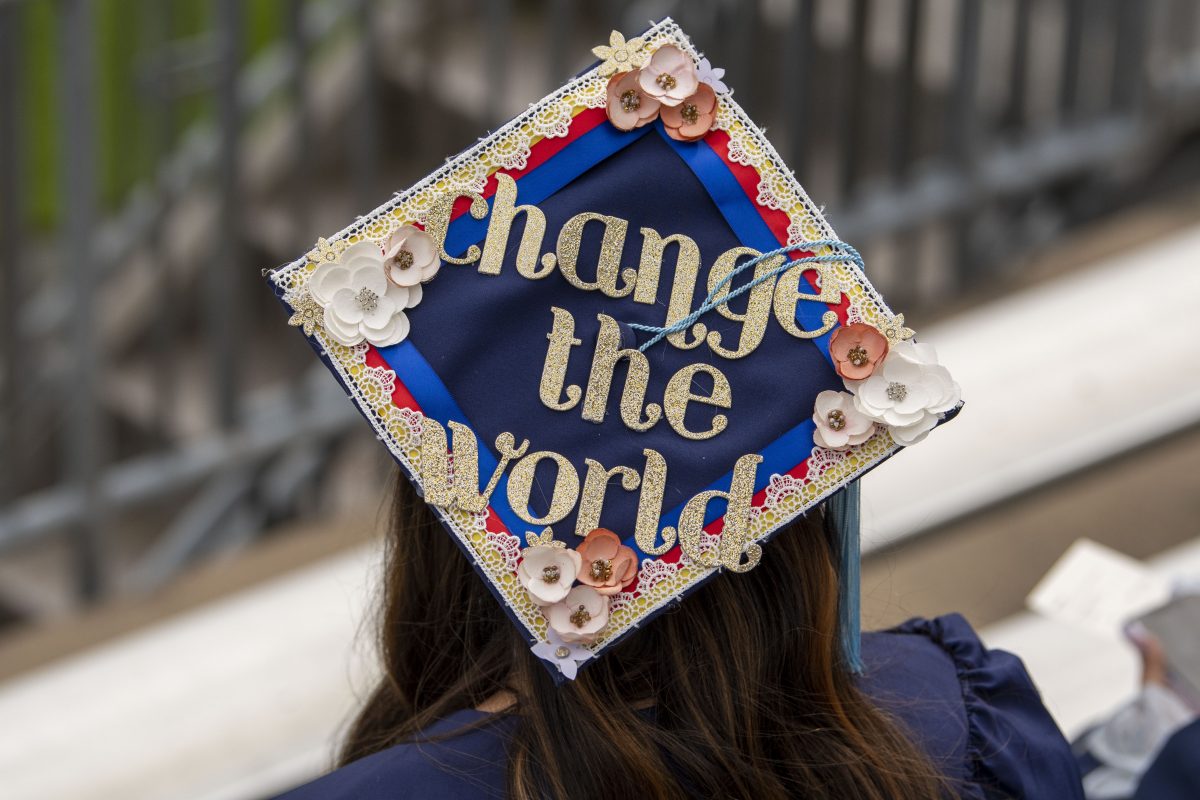 Congratulations on your accomplishment and welcome to the noble profession of social work! My wishes for satisfying and successful careers.
Alex
— Alex Gitterman, Professor
To the Class of 2021: While the once-in-a-century pandemic affected your time here in unprecedented ways, you persevered. We are so proud of you. Here you are today, about to launch and advance your careers. I hope all of you take a moment to pause and congratulate yourselves and each other. There has never been a more urgent time for social work, and for you as professional social workers. The world, the nation, our state and our communities need you. You have answered the call for a vocation that centers respect for the well-being of individuals and communities; the need for diversity; the commitment to racial, social, and economic justice. You are ready. I could not be prouder of each of you, and I am particularly proud to have you join this profession that I have loved for decades. I hope you will find this calling, this vocation, as rewarding as I have. Congratulations!
— Nina Rovinelli-Heller, Dean
Congratulations on graduating from UConn School of Social Work! You are a cohort full of resilience! You have spent the majority of your Social Work education learning through not one but two pandemics. I can't say how this will affect you later in your careers but I can say that it will and already has. First, learning about racism and White supremacy within the context of the deaths of so many at the hand of police, then within moments that you witnessed justice being served by the guilty verdict of Derek Chauvin another murder of a young Black woman occurred raising the same cries for police accountability. You have also experienced firsthand being separated from friends and family by something beyond your control. Fear, desperation, and longing, combined with loss and grief, for many of you has informed your understanding of the clients you were serving at your field placements. The connections made with faculty, staff and your fellow students are crucial future supports, keep them close. Felizidades!
— Lisa Werkmeister Rozas, BSW Program Director
Congratulations, Class of 2021! I hope you feel a tremendous sense of pride in what you have accomplished by earning your social work degree. You are the future of social work, and I am confident you will help move us all towards a more just and equitable world.
— Kelsi Carolan, Assistant Professor
Congratulations on making it to graduation! You've worked so hard for this moment and now it's time to savor every minute of it. Best wishes on your next adventure and the one after that. Never forget your strength and that you're capable of greatness. The SSW Alumni community welcomes you all!
— Abigail G. Jackson, Assistant Director of Alumni Relations
You've all worked hard! Time to go out and change the world. Best wishes for a long and fruitful life.

— Pete Papallo, Assistant Extension Professor
To all of the BSW and MSW students who worked so hard under such trying circumstances, congratulations and good luck in your social work professions!

— Kim Campbell, Assistant Extension Professor
For the 2021 MSW graduates:
Congratulations all!! Getting an MSW is always challenging, but add to that the novel coronavirus pandemic and the centuries-old systemic racism epidemic, and you have a UConn Master of Social Work education and degree without precedent. Hearts have been broken by losses and souls have been challenged by injustices, and yet you prevailed. There is hope for there are people like all of you who have been preparing to take on these challenges – whether that be as a clinical, community organizing, or policy practice social worker. Now it is time for you to spread your wings and fly, maybe somewhat cautiously initially, but fly nonetheless. On occasion, do come back and share your story, but now it's time to go! The city, the state, the country, and the world sorely need you. Go and make a difference!
— Brenda Kurz, MSW Program Director
Dear Graduates,
At the end of the semester, I talked with you all about the idea of vicarious resilience — the positive meaning-making and growth that we may experience through witnessing the resilience of our clients. I encouraged you to attend to your clients' strengths with as much consideration as you give to their challenges, both because it will be helpful to them and because it will provide you with the energy and inspiration you will need to continue doing this work.
Now, as you prepare to move on from the UConn School of Social Work, I want you to know about the vicarious resilience that I've experienced watching you navigate your education in the midst of a pandemic. Though I have known many of you only through a computer screen, I have been so inspired by your engagement in your learning. You are entering the profession at a time of extraordinary need. I hope that this next chapter brings much fulfillment, growth, and time to rest and rejuvenate.
Best wishes,
Ellen
— Ellen Smith, Associate Extension Professor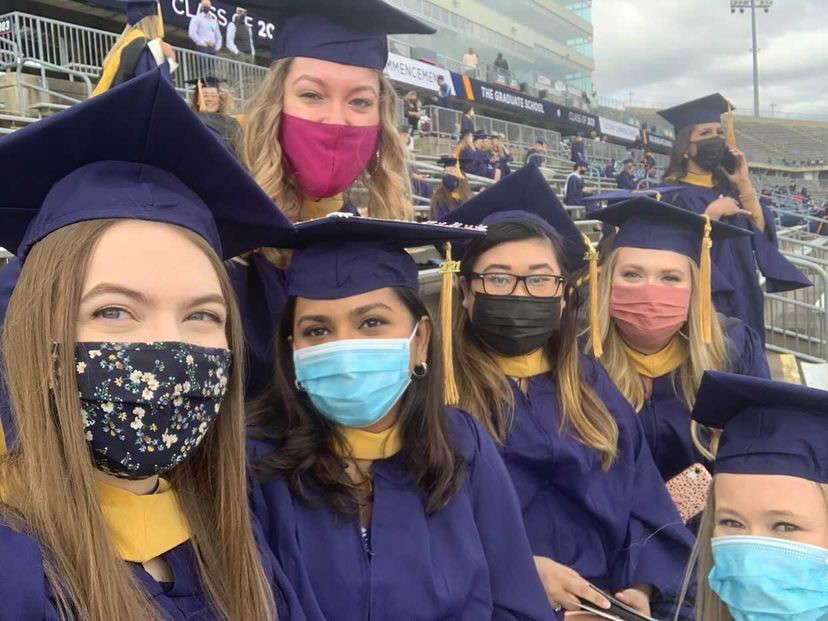 Wishing the graduating classes - BSW, MSW and PhD - all the best on their journeys as practitioners and educators. Congratulations!

— Kathryn Libal, Associate Professor
Congratulations Class of 2021! You have made it to the finish line despite COVID-19. While this past year brought many challenges, you are no strangers to adversity. You should be proud of all that you have endured and all you have accomplished. In the words of Maya Angelou, "We may encounter many defeats but we must not be defeated." Remember these words as you embark on your social work journey to helping the many people and communities in need and fighting the injustices that exist. I wish you the best of luck with your future endeavors and look forward to you being my fellow social work colleague.
— Milagros Marrero-Johnson, Director of Strategic Programming

Hey grads — you rock! You give me confidence that a better world can be built. I hope to cross paths with you in the community and see all the good work you will each be doing. Keep pushing for social justice!
Louise

— Louise Simmons, Professor
Congratulations, graduates!! Your intelligence, tenacity, and dedication to social work have paid off!! You have endured one of the most tumultuous years in recent history and shown us and the world what you are made of. I couldn't be more proud of you!! Please stay in touch and keep us posted on all the amazing things you do in your careers.

— Margaret Lloyd Sieger, Assistant Professor
Congratulations, class of 2021!

— Caitlin Elsaesser, Assistant Professor
Congratulations and best wishes to the Class of '21! You did it!

— Natalie O'Connor, Program Assistant
Congratulations and Best of Luck to the Class of 2021!

— Beth Sharkey, Educational Program Administrator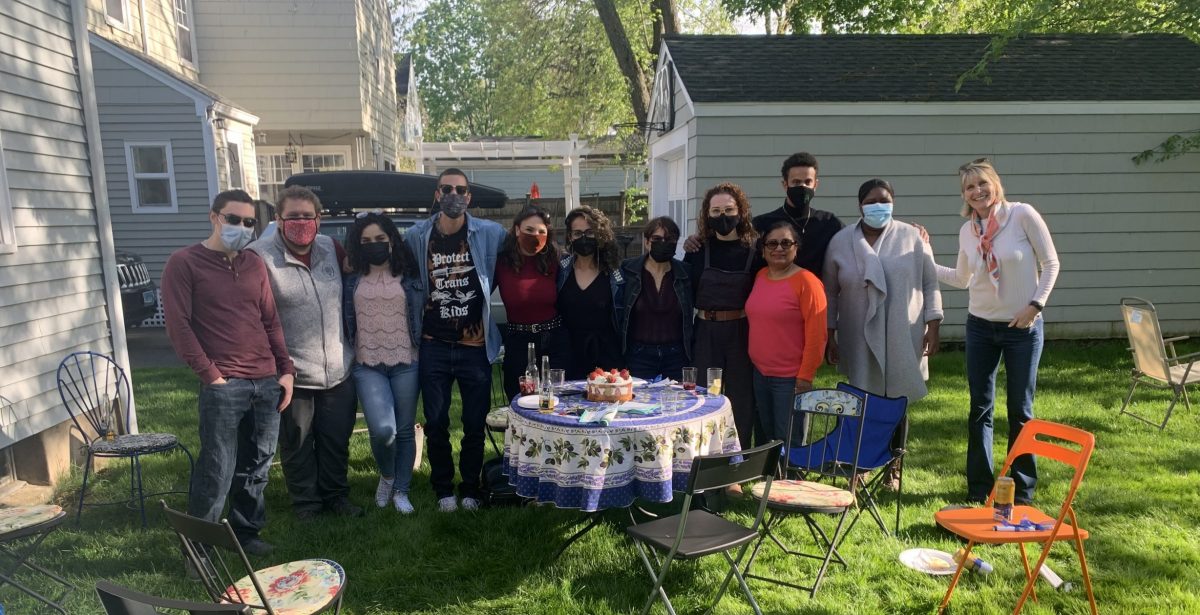 To the Class of 2021! CONGRATULATIONS! SO very proud of you all! Sending you warm congratulations and wishing you the very best for the future. You have worked so hard and have endured many challenges, particularly this past academic year. I hope you can savor this great accomplishment and feel a sense of pride! May you always dare to do great things as you engage in social justice work!
Warmly,
Gio Iacono

— Gio Iacono, Assistant Professor
Congratulations Class of 2021. This is it — the moment you have yearned for, shed many tears for, and dreamed of! You're an SSW GRAD! I am looking forward to your future successes, and wishing you all the best on your future endeavors!

Once a husky, always a husky! Stay in touch with the school — we are always here to support you!

Again, Congratulations — enjoy this moment, you deserve it!

— Trisha Hawthorne-Noble, OSAS Coordinator
Congratulations, Class of 2021! It has been a long and difficult year, so be especially proud of yourselves for getting to this point. I wish you every success in your next chapter. Remember, you are the experts in the challenges and barriers our clients and communities face every day. Your voice and your perspective are needed in policy and politics. So be bold and brave in your practice and "speak your mind, even if your voice shakes." You are social workers who will change the world.
— Tanya Rhodes Smith, Director, Nancy A. Humphreys Institute for Political Social Work
Dear Class of 2021 SSW graduates!
I am very excited for you as you graduate and launch the next phase of your social work career. You have demonstrated perseverance, flexibility, and creativity to be able to graduate during this pandemic. Those qualities will serve you well as you engage with challenges in the years ahead. I will look forward to hearing about your accomplishments in the years to come.
Best wishes,
Megan
— Megan Berthold, Associate Professor and Director of Field Education
Dear graduating students,
Congratulations! It has been wonderful to see your development throughout your time at the SSW.  Your creativity and perseverance in serving others and completing your program during the pandemic was impressive. As you embark on the next phase of your career, we wish you all the best.
— Megan, Cheryl, Gina, and Nancy (The SSW Field Education Department)

Read more about and view photos of the 2021 Commencement ceremonies at UConn Today.
---