From the Office of Dean Heller
Dear Colleagues,
Sunday is Juneteenth, the day that commemorates the end of slavery in the United States. Also known as America's Second Independence Day or Emancipation Day, Juneteenth has been celebrated by African Americans since the late 1800s. Last year, it was made a federal holiday by President Biden, and this year the Connecticut legislature also designated Juneteenth an official holiday.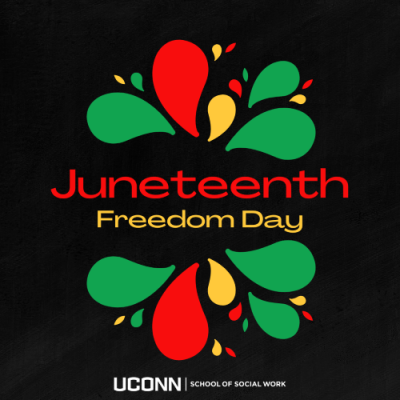 Recognition of Juneteenth, the day in 1865 when Union troops enforced the Emancipation Proclamation in the last slave-owning community in the U.S., is welcome but long overdue. At the School of Social Work, we honor Juneteenth as part of our commitment to diversity, equity, inclusion and anti-racism (DEI/AR). We join with the University's Office of Diversity and Inclusion and the Provost's Office in celebrating the history and culture of Black and African American communities. We also acknowledge the ongoing struggle for freedom and fight to end anti-Black racism and oppression in all its forms.
During the 2021-2022 academic year, our faculty and staff met regularly to discuss how we would implement DEI/AR as part of our Strategic Plan. We are finalizing a definition of anti-racism for our School and developing concrete steps that we will take to support the aspirations and empowerment of our Black and African American students, staff, faculty and communities. This commitment is not only in keeping with the ethics of our profession, but it's an imperative in this era of resurgent white supremacy.
To respect and highlight Juneteenth, I encourage everyone to explore the resources that the UConn Library has compiled in honor of the holiday, and to explore educational and cultural events in your community.
In solidarity,
Nina Rovinelli Heller, PhD
Dean and Professor
Zachs Chair in Social Work
---