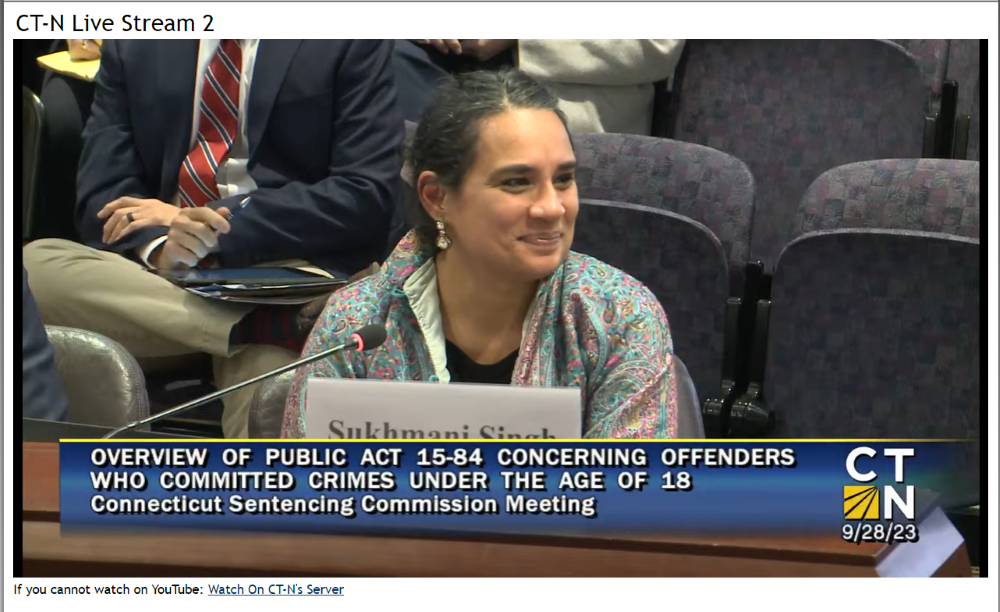 On Thursday, September 28, 2023, Assistant Professor Sukhmani Singh presented her work with Beyond Bars at the Connecticut Sentencing Commission Meeting at the Connecticut State Capitol Legislative Office Building. Singh's research, Beyond Bars: Examining the Experiences of Formerly Incarcerated People Released Under Public Act 15-84 in Connecticut, is a primarily qualitative study that examines the parole and reentry experiences of formerly incarcerated people who were beneficiaries of Public Act 15-84.
Public Act 15-84 was passed in Connecticut in 2015 following two Supreme Court rulings: Graham v. Florida, 2010, and Miller v Alabama, 2012. These historic rulings held that mandatory life-without-parole sentences for youth 17 or younger when they were convicted of violent crimes is unconstitutional. Those rulings prompted the Sentencing Commission to take action and recommend a change in Connecticut's law.
Singh, who is collaborating with the Sentencing Commission on the research project, provided an overview of the national landscape, described recently published research on the population, and shared details of the cross-sectional, one-on-one interview study that she has designed. Specifically, she and her research team will conduct semi-structured interviews with beneficiaries of P.A. 15-84 who have been completely released from parole supervision and are fully returned citizens. Additionally, her doctoral student colleague, Joshua Adler from CUNY Graduate Center, shared some descriptive quantitative analyses of de-identified data they had received from the Board of Pardons and Paroles.
"One broad area that I'm interested in understanding is the experience of incarceration itself for these individuals, and their experience with the parole hearing process in particular," she explained. "I'm also asking them about the social services that they have received, trying to understand their experience with housing, with employment, and lastly, really leaning in on their wisdom and lived expertise to request recommendations for how do we as a state – and CT has this history of being a state that does things – how do we do this better."
Singh was joined by Adler and SSW graduate student Fernando Valenzuela. Her presentation was livestreamed by CT-N.